It is blustery, wet, and cold out there today. And the weather people predict snow this afternoon.
The yard has been "winterized". The Scarlet Runner Bean plants have been torn out and removed to the compost, as have all the garden plants except the rosemary, oregano, thyme, and my Granny's Rose, which Attila has mulched to protect it from frost damage. It grew luxuriously for Granny, but in her yard it was covered all winter by deep snow, and we don't get deep snow here, not like that. So mulch should help it weather the winter.
On Sunday Attila cut the grass in the yard, using the clippings to top up the compost bins. Now that the garage roof is almost done, he has time and psychic freedom to concentrate on his real love, gardening. All compostables are now precious, no yard waste will be going to the curb in future. The tree branches that come down in the wind, or are cut when he is pruning the trees, are stored in a pile in the back yard, ready for use in the spring.
Next spring I want to construct a raised bed inside the fenced area, a garden bed that is mine to create, plant, attend, and harvest. Attila will make most of the decisions and do most of the work for the rest of the property, but the raised bed will be mine. The tree branches will be cut up and used as a base for the raised bed, a sort of Hugelkultur base. I will purchase some soil, but not much will be needed, the raised bed will be topped with our own composted soil, and a mulch. The bed will be high enough that I will not need to tax my arthritic knee and back to work on it. I look forward to the spring!
When I started canning on Labour Day weekend, the first week of September, I had thought it would be a short-lived little adventure.
Ha! Ha! Ha!
The canning projects continue unabated, although at a slower pace. The past weekend it was bone broth, which was pressure canned yesterday. The grass-fed, no hormone, beef bones were a bonus. In 2013 we purchased a quarter of beef from Terra's neighbour, as did Terra and Lares. We were asked if we wanted the bones. Of course! Those bones were kept in the freezer and made into beef broth in 2016. But there was a second bag of bones to be had, Terra and Lares did not want theirs, so we took them and they sat in the freezer until last Saturday, food that would have gone to waste otherwise. Now 7 one-litre jars of bone broth are lined up on the counter like little soldiers, all sealed, ready to be labelled tomorrow and then stored in the basement. Attila will be enjoying some very nice soups this winter based on this broth!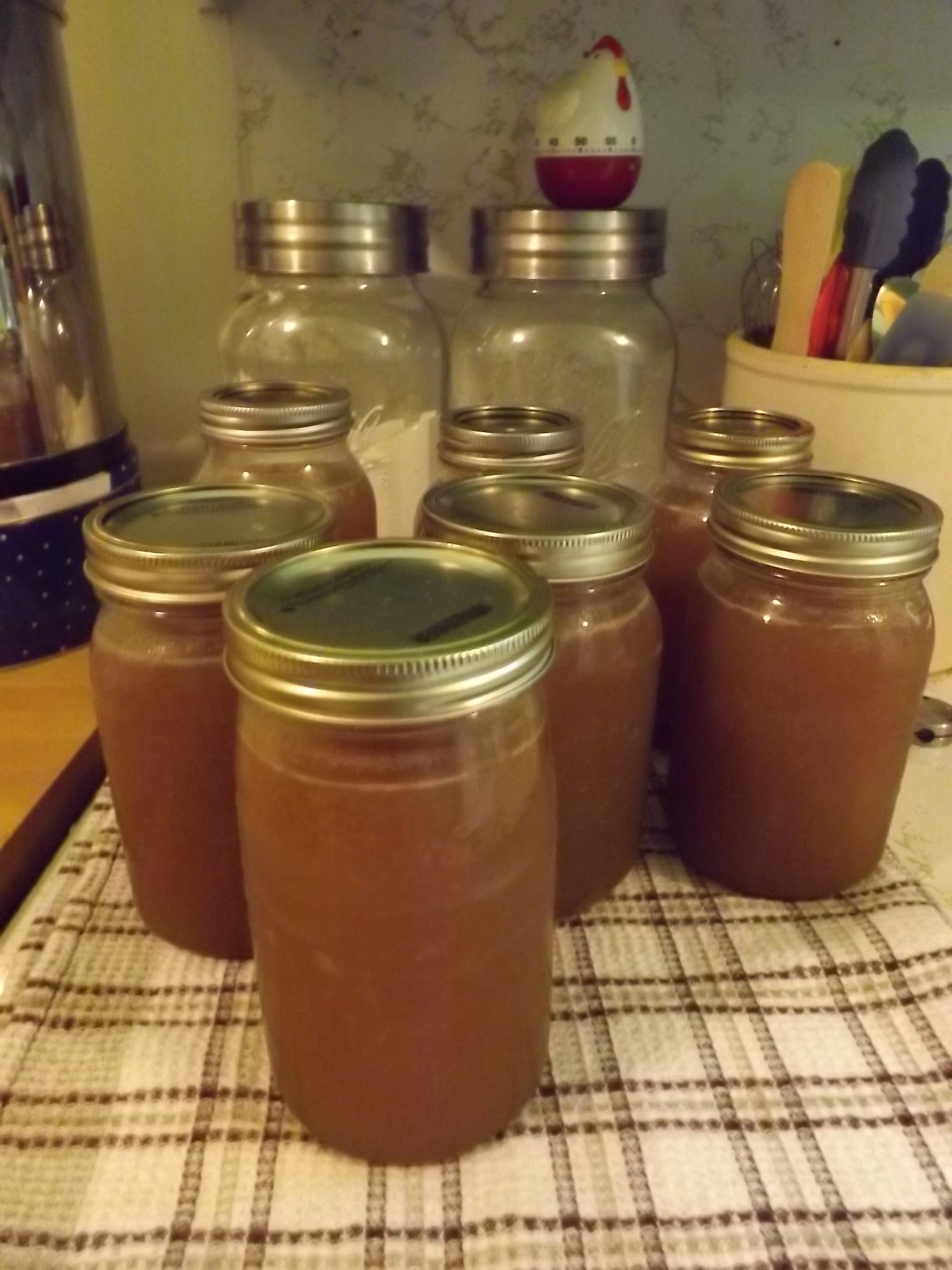 There is still fresh produce to consider for canning. Two boxes of garden tomatoes are ripening in boxes in the basement, and two bags of whole ripe garden tomatoes are waiting in the freezer for my attention. There is a ripe pumpkin and three large Hubbard Squash waiting for attention as well. All of this should be processed by Christmas!
One strong interest that Attila and I share is food. My first degree is in Food and Nutrition, and I've always taken a keen interest in nutritious cooking, and in food preservation. My fondest memories of childhood are helping my Granny cook on the wood stove, harvesting wild fruits with my Granny and Grandpa,and the joy of my Mom's Strawberry Jam. Attila similarly has wonderful memories centred around his Grandparents and food, and his Mom allowed him access to the kitchen when he was a kid, so he could pursue his interest in food.
In adult life Attila is always hungry, eating at least two full dinners every evening, and a bedtime snack as well. Food is always on his mind. In adult life I have anaphylaxis, which requires that I analyze every single piece of food or beverage that I put in my mouth. Food is always on my mind. And then there is frugality, and food quality. Our income this year just reached the official poverty line, for the first time since 2004, when we experienced one single solitary year with an income above the poverty line, so our resources don't allow much leeway for eating out, or buying prepackaged foods. We don't turn up our noses at free food, or food that others reject because it requires work and attention to render it delicious. We find that home cooking, using what we have when we have it, provides us with a not only healthy diet, but a varied and delicious one as well.
Wow! A huge grey squirrel just leapt from the Crabapple tree in the front yard onto the roof above the front door, and must have almost fallen off the evestrough. What a racket! It sounded like someone was trying to take out the roof. I will have to go out there and check for damage. The squirrels have been behaving desperately this past spring, summer and now fall. I think it has something to do with the natural wetland being razed for the new subdivision. The local supply of food and shelter has been extremely and suddenly reduced, so competition must be fierce for survival for them. They sure have been behaving badly around our place this summer season!
I continue to observe YouTube videos. This week I am watching hand gestures. There is a particular set of hand gestures that the content producers that I am watching are using, it seems they are all mimicking each other, or maybe it started with one successful content creator, and spread in the race for success and dollars. I think that as soon as the $$$ dry up for content creators you won't see new videos for dust. It isn't sharing, it is a business venture for many of them, most of them really, but nothing lasts forever and the income generated is diminishing over time. In the meantime I am watching the videos that interest me, mostly centred on food preservation methods, and home renovations.
Well, that is enough writing for now, time to get going on the kitchen duties, and check out what that dastardly big little squirrel got him or herself up to on the evestrough!
Worldly
Weather
1°C
Date: 8:00 AM EST Tuesday 13 November 2018
Condition: Light Rain
Pressure: 101.9 kPa
Tendency: Falling
Temperature: 1.2°C
Dew point: 1.2°C
Humidity: 99%
Wind: N 2 km/h
Visibility: 13 km
Quote
"I despise the pleasure of pleasing people that I despise."
Lady Mary Wortley Montagu
1689 – 1762
Oh the small and twisted lives of the elite. Pretty from the outside…