Friday, October 14, 2016
I have never had a Mac die on me, until this year [revision, my iBook died, it was 9 years old 2004-2013, when it hit the dust, laptops have a shorter life span the desktop computers]. The Mac in question is my G4 667, purchased way back in 2001. It had a good run really, 15 years. I tried to fire it up this morning, and no, nothing, not a peep or a whir. It might be the battery, but since I have no use for the machine I won't be trying to bring it back to life. It is a large computer, with a large monitor, and is taking up a lot of space in our small home, so it will be going to the eWaste bin at the Habitat store in a nearby city, along with the monitor, an old scanner, and speakers. The morning was spent removing the hard drive, and packing up all the related items to be taken to the recycling centre. I could try to sell some of the items, like the monitor, but I dread the process, and would only gain a few dollars, not really worth all that agony. In an attempt to give away the package I joined a vintage mac group on yahoo and attempted to post a free offer, but the admin rejected my post and I really don't want to try to figure out what the problem was… too often it is just because I identified myself as a woman, things always go much more smoothly if I pretend to be a man; with tech groups your mileage may vary. I am not giving up the keyboard that came with the computer though, it is by far the best keyboard I own.
There is a box spring for a twin bed in the basement, which has been there for a year waiting for Terra to make up her mind if she wants it. I tracked her down and asked for a decision, and no, she doesn't want it, so we will be looking for a good home for it in the next few weeks.
The new Garden Shed is beginning to fill up, and the domino effect on organizing and purging is kicking in.
Yesterday was cold and cloudy, with a bit of rain in the morning. This morning the sun is shining, and it is cold, dipping below freezing last night. Attila covered the garden last night, trying to preserve the last of the Scarlet Runner Beans for seed, and to give the tomatoes a few extra days to vine ripen.
I am slogging along with the free UK records access from Ancestry. I am following one line, but I am not entirely convinced I have the right family. Everything fits, but that one document that actually states that GGG Grandmother Elizabeth is a Newbery has not been located. Until then it is all speculation, and I don't like working so hard on speculation. But there is nothing for it but to press on, it is about $20 to send for a copy of a document from England, which is a fairly bit investment when you are only guessing. English documents available on Ancestry for BMD (birth marriage death) are quarterly indexes, so it is very difficult to tell if the Elizabeth xxx is the Elizabeth you are looking for. I watch other researchers make huge leaps of faith. Sometimes it pays off and they are correct, but other times they have made an error and done years of work researching people who aren't related at all. I might be going just that right now, it definitely curbs my enthusiasm!
Saturday, October 15, 2016
The weather was perfect, so we decided to take a break from our various projects and head for the park. We have been visiting various provincial parks this summer, and most of them were closing last weekend, so we decided to venture out to Bon Echo Provincial Park. It is a very beautiful park and we had no trouble spending the entire day there. We went on a boat tour to see the hieroglyphs, visited all the beaches, toured one of the campgrounds, and went for a hike. The fall colours were at their peak, so that the drive to and from the park was a feast for the eyes. We had packed a picnic lunch, which we ate at a picnic table in a stand of tall pines, the sun dappling all around us. On our hike we met a retired couple who told us they visit the park frequently, and were preparing to go for a swim in the lake. We were wearing jackets, so it was quite chilly, and earlier in the day Attila had put his hand in the water and said that it was rather cold. In they went though, very impressive I must say. I haven't been swimming in many, many years. I used to love swimming when I was younger, but now I seem to have an aversion to it.
Attila on the beach at Bon Echo Provincial Park. Sunny, cool, and very windy, it was a great day! The property at Bon Echo was part of an travel route used by aboriginal people. Eventually it was visited by explorers, then logged and left so bare that it was called Canada's Gibraltar, then purchased by rich a Christian who had a faith based resort there, then purchased by a rich suffragette who played hostess to many artists and was a big fan of Walt Whitman, who never visited the area. It was her son who willed the land to the people of Ontario, so that now it is a provincial park. I found myself wondering what it would have been like to pass this way when the trees were hundreds of years old and towered on the cliffs, and there were no resorts, or cottages, or motor boats on the water. I wonder how time really works, beyond what our weak human minds make of it, and if there is a chance I might ever find out what the silent rocks have seen.
The Mazinaw Rock: These cliffs are 330 feet high, and continue down from the surface of the water for another 476 feet at the deepest point. You can take a ferry across the water for a fee, to access a hiking trail that takes you to viewing decks at the top of the Rock. We didn't have time to take the hike, perhaps another year, the park is now closed until next spring.
Sunday, October 15, 2016
Attila had plans, he wanted to grocery shop first thing in the morning. So off we went to take advantage of all the bargains he had found. I had plans too, I wanted to visit an Ikea store to test drive living room chairs. My old Poang chair from Ikea, purchased in 1990, wore out last year, and I haven't been comfortable since. It is hard to find a comfortable chair, since I have severe arthritis of the coccyx, and I really missed my chair. The design has changed since 1990, so to make sure the new design was still as comfortable I needed to sit in it. The nearest Ikea was in Ottawa, which is a few hours away, so we packed snacks and headed out. It rained off and on all day. The leaves, the colours! It was a beautiful drive, despite the gray skies.
The Ikea store was crowded! I am unaccustomed to being around so many people, and also unaccustomed to the multicultural mix of humanity that were shopping at Ikea yesterday. So many languages! People were so polite! I discovered that I had dressed too warmly for prolonged shopping, so that after a few hours I was hot, sweating, and a little out of breath. I found a quiet corner and a piece of furniture in the showroom to sit on, and rested until I was quite myself again. We carried on for several more hours, but did not manage to peruse the entire store.
Eventually we found the Poang chairs, and I found that the rocker was very comfortable. I like the rocker because I can sit back with my feet up, and when I want to stand up I can rock forward and arise from the chair very easily. This is very easy on my bad knees. The chair is a large item in our very small living room!
My new Poang rocking chair. Comfortable to sit in, easy to arise from, easy to clean. The cushion cover is leather, which will be very easy to keep clean. My previous Poang chair had a beige cotton cushion cover, which was very hard to keep clean, and I found it totally miserable to try to stuff the cushion back into the cover after washing the cover. I can wipe the leather clean.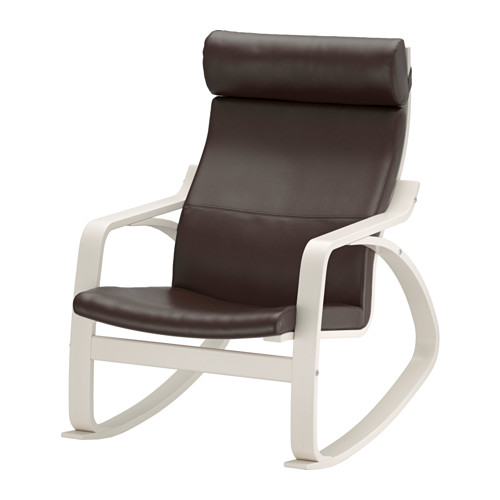 Another item purchased was a foam twin mattress for Iris, for next spring. We decided to use a regular twin mattress on the front bed, leaving the table permanently folded down into a bed. Attila sleeps on the front bench, which is very narrow. He plans on building a pull-out slatted section, to widen the bed when needed, and new thick foam will be purchased to form the mattress he will need, cut to the exact size needed. Comfortable beds are what Iris is all about for us, she will be like a luxurious tent, that we don't have to set up when we are camping. There were duvet cover sets on sale for $9.99 each, a bright orange colour, so two of those were purchased for use in the trailer next summer. It will be so much easier to use a duvet, than to try negotiating sheets and blankets in such a small space. We can roll the bedding up during the day, and use the beds as seating.
Worldly Distractions
Weather
-1°C
Date: 5:00 AM EDT Friday 14 October 2016
Condition: Not observed
Pressure: 102.8 kPa
Tendency: rising
Temperature: -0.5°C
Dewpoint: -1.2°C
Humidity: 96%
Wind: NNW 10 km/h
Wind Chill: -4
12°C
Date: 9:00 AM EDT Monday 17 October 2016
Condition: Cloudy
Pressure: 101.4 kPa
Tendency: rising
Visibility: 13 km
Temperature: 12.0°C
Dewpoint: 11.2°C
Humidity: 95%
Wind: NNE 18 km/h
Quote
"Set all things in their own peculiar place, and know that order is the greatest grace."
John Dryden
1631 – 1700
"You need chaos in your soul to give birth to a dancing star."
Friedrich Nietzsche
1844 – 1900
Chaos is a nice place to visit, but I wouldn't want to live there.