Sunshine, it brings light into life in so many ways! Today was beautiful. It was -24C out there when I arose this morning. Now, at 5 p.m. it is -10C. The blue sky and white snow were so beckoning that I bundled up and headed out for my walk. Oh how I appreciate the knee warmer my Mom knitted for me, it kept my knee functioning and pain free for the whole 20 minutes that I was out of doors. I feel much better for getting out for my walk, as I have been confined to the house through the cold snap earlier in the week, and then the blizzard that followed.
The backup project is proceeding slowly. I have about 40GB of music files, some of which are backed up on CD, and some not backed up at all. I began the sort today, storing the files that have already been burned to CDs in a separate folder. That was step one. Step two will be burning the rest of the files on data DVDs. The files need to be organized, saved on both of the computers, the external usb drive, the Cloud, and the DVDs. Then the bulk of the project will be complete.
My oh my, how I regret not having been consistent with the digital housekeeping over the last 24 years.
I have a G4 computer that was purchased around 2001, it is still going strong. It is dated and will not manage online activities. It is just too old. Terra had expressed an interest in Photoshop and the Adobe creative software packages, all of which I owned when the G4 was new. I sent all the hardware and software to Terra. However, she barely got started with it when she found out she was pregnant. That is the end of learning Photoshop! She will be returning the computer and accessories, to get it out of her way. I have yet to decide what to do with it! Really, it would only be good for working on office tasks, like letter writing, database management, spreadsheets, modest graphics work, etc. It is extremely slow compared to new computers, so I doubt anyone would want to use it at all. But of course, there are no viruses, trojans, or malware of any kind developed for that machine, so it would be good for working with and storing sensitive information.
I have only had two Macintosh computers that wore out on me over the last 24 years, and both of them were laptops. The rest of my computers just keep going and going and going… I have given away the Apple llE, the 7300, and even the laptops that had worn out. The G4 is still going strong after 15 years, although it cannot be updated to the current operating system. The iMac is still going strong after 9 years, and can still be updated to current operating systems; it is getting very slow. My present main computer has been very reliable, a four year old MacBook Air, and it still does everything I need it to do.
I am not sure what I will do with my time when I get all of these computers backed up. I think it would be a fine idea for spring to arrive, just as I finish the job. Tomorrow would be good. Did you hear that spring? I am into it if you are.
The birthday rose. Attila gave me a potted pink rose for my birthday. The blooms are spent now, and the plant is sending out new delicate green leaves.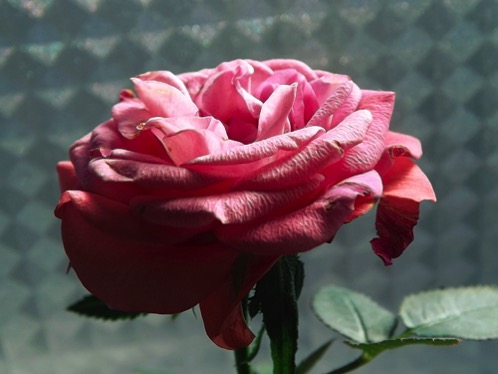 Worldly Distractions
Weather
-10°C
Date: 5:00 PM EST Thursday 18 February 2016
Condition: Mainly Sunny
Pressure: 103.8 kPa
Tendency: rising
Visibility: 24 km
Temperature: -10.0°C
Dewpoint: -18.6°C
Humidity: 50%
Wind: SW 7 km/h
Wind Chill: -14
Quote
"Every artist dips his brush in his own soul, and paints his own nature into his pictures."
Henry Ward Beecher
1813 – 1887