Here is it already! It is my last full day for this lone visit to the little house in the city. I have accomplished much, and I have added more projects to my list, more added than I checked off during this visit! That is the way of things, always looking to the next activity.
Today it is sunny, as it was the day I arrived, last Monday. It is still chilly, but soon will be warm enough for me to sit on the back porch. I've eaten a breakfast of a toasted tomato on rye sandwich and cabbage/carrot slaw. I had my morning coffee chatting with Terra, who dropped by for an hour or so on her way home from work on the night shift. While we stood on the back porch an orange and white tabby cat was standing at the foot of the garden. Terra called to it and it came trotting over, and leapt onto the porch. It enjoyed being petted and fussed over. We didn't feed it. We are concerned that it might have been abandoned, it had no collar, and it did appear to be well fed and healthy. Terra will be checking on in here while I am away to make sure it is OK, and she will keep an eye on local postings about missing pets. The mystery was solved when talking to Sarah, our neighbour, who told me the cat belongs to the family three doors down. Apparently they took him in when he was a feral cat, and he loves to wander. He must feel very loved, because he is friendly and gentle.
After Terra left I received an email message from Helena. Since the message was sent just minutes before it arrived, I knew she was awake. So I called via Skype! Skype is working out very well as a communication mode from the little house in the city. We had a nice chat, sharing our news and then signed off to return to our respective domestic plans for the day.
I wanted to get some sort of start on gutting the bathroom, so I decided to remove one half panel of drywall, beside the toilet. It was nailed to the studs, with finishing nails. The finishing nails were difficult to remove, but with patience and my little hammer, I managed to remove all of them. The panel of drywall was also screwed to the wall, so I took my short little screwdriver and went to work. After removing what I though were all of the screws, I discovered that some of them were cloaked by a layer of the glue used for the tileboard. I used the sharp end of one of the removed screws and my hammer to chip away the glue, then forcefully burrowed into the screw head with my screwdriver. In that way, with great patience and some time, I located and removed the remainder of the screws. Then the panel of drywall was easy enough to lift out of place and take to the back deck, to await a future trip to the dump.
The studs! Bathroom little house in the city, Sunday, June 9, 2013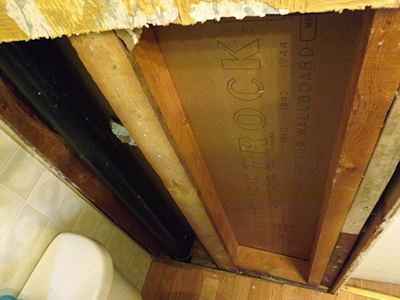 I have collected all the blue box materials into a big plastic bag and placed them in the car, ready for the journey home tomorrow. I will be bringing back a bag of garbage as well. This area has grey weeks and blue weeks for recycling, with strict rules about what can be left out when, and how. In the country we just put out the blue box, once a week. I can learn how it is done at the little house in the city, but it hardly seems worthwhile considering that we are seldom here when the recyclables or garbage are picked up at the curb, and usually carry it all back to the country for disposal.
So far it has been a very pleasant day.
Worldly Distractions
Weather
16°C
Observed at: Muskoka Airport
Date: 9:00 AM EDT Sunday 9 June 2013
Condition: Sunny
Pressure: 102.2 kPa
Visibility: 16 km
Temperature: 16.1°C
Dewpoint: 8.9°C
Humidity: 62%
Wind: W 8 km/h
Quote
MY MOTHER HAS MILLIONS OF MOTHERS
My mother has millions of mothers
It took millions of mothers to make her
Mothers who became grandmothers
Mothers who became great-grandmothers
Of great-great-grandmothers
And on and on
Great rivers of mothers flow
Into every mother
And in every mother's hands
Millions of hands move again, soothe again
Mothers who care, mothers who teach
Mothers who feed, who watch over you
Encouraging you
Mothers of daughters
Who grow up to have daughters
Who are mothers of sons
Who grow up to be fathers
And grandfathers
And great-grandfathers
Of great-great-grandfathers
And on and on
It took millions of fathers to make my father
Millions of hands flow into his hands
As he lifts me up to his shoulders
Your father is huge with fathers
Your mother is grand with mothers
With ancestors
It's true
Millions of fathers and mothers
Made your father and mother
Made you
Written by Robert Priest, contemporary Canadian poet, Toronto, Ontario