My day was uneventful, charmingly so.
What did I do today, hard to think really. Oh yes, I paid bills, and we have $56 left, which is a bit shocking, but it makes me very glad that the bills are indeed paid. Let's see, I updated web sites and added security. Oh, and I found a few more third cousins while searching for a death record for their mother, which I did not find. I went for a walk in the rain, early in the morning, without a raincoat or a hat; it was grand. I drove into the city to visit the dentist to check on the work that had been done. And I picked peonies to sit in a mug on the windowsill. And I stored the new composter that I purchased yesterday in the garage, because I haven't decided on just where to put it. Well, I am sure there are more, more little things that flow through a day, more things of no ultimate consequence, except that they accumulate into a pleasant, well spent bouquet of waking hours.
Peonies on the windowsill.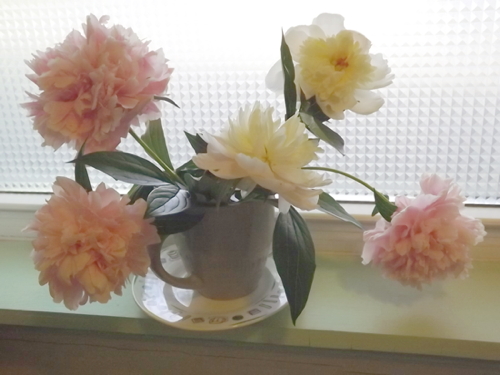 Worldly Distractions
Weather
23°C
Date: 7:00 PM EDT Tuesday 16 June 2015
Condition: Partly Cloudy
Pressure: 101.3 kPa
Tendency: rising
Visibility: 24 km
Temperature: 23.0°C
Dewpoint: 16.2°C
Humidity: 65%
Wind: NNE 19 gust 30 km/h
Humidex: 28
Quote
"Do not stand at my grave and weep,
I am not there; I do not sleep.
I am a thousand winds that blow,
I am the diamond glints on snow,
I am the sun on ripened grain,I am the gentle autumn rain.
When you awaken in the morning's hush, I am the swift uplifting rush of quiet birds in circling flight.
I am the soft star-shine at night.
Do not stand at my grave and cry,I am not there; I did not die."
Mary Elizabeth Frye
1932