We have had lovely autumn weather for the last few weeks, but it hasn't lasted, summer wants one more shot at dominating the weather. The humidity has steadily risen through the day, and the temperature was warm. Tomorrow the humidex will be high, 30C or more. Sheesh!

Every day has been chock full of food preservation projects, but today I finally had the opportunity to work on other things.

One thing I have been wanting to try, is cleaning the glass on the inside of the oven door. Nothing I have tried in the way of household cleaners has made the slightest difference. So I decided to use a home remedy, a harsh chemical. We made a trip out to the Camp last week, and I brought home some powdery ash from the camp fire. I used a wet rag, dipped it into the ash, and cleaned the glass on the oven door. It took a little bit of elbow grease, but it came sparkling clean. I now have a tub of ash stored away with my cleaning supplies.

Another project I have been keen to pursue, is the making of Naan Bread.
I've been teaching myself to make Naan bread, it is a journey.The first batch was a recipe that used baking powder instead of yeast, it was OK, but not satisfying. I learned a few things.

The second batch was a recipe using yeast, and I attempted to use the Bosch mixer, failure, the volume of the dough was too small for the mixer, I had to remove it and mix by hand. I made a small rolling pin from a dowel, that was a success. My cast iron frying pan was set to medium-high, as I'd read that was the best temperature, another failure, too high a setting on my range, a lot of burning going on. Still the results were delicious, but not satisfying.

The third batch were an improvement. The same yeast recipe as the second batch was mixed and kneaded by hand. I used 1 cup whole wheat flour, and added all purpose flour to the dough to the point where it was no longer sticky. This time I rolled each dough ball out on a floured silicon baking mat, just before it was placed in the cast iron frying pan. The baking mat made it easy to roll the dough thinner than it had been for the other two batches, so I discovered that thin dough cooks more evenly.I ate two pieces of Naan bread before they cooled. I plan on making re-fried beans tomorrow for a bean/onion/cheese/salsa roll up.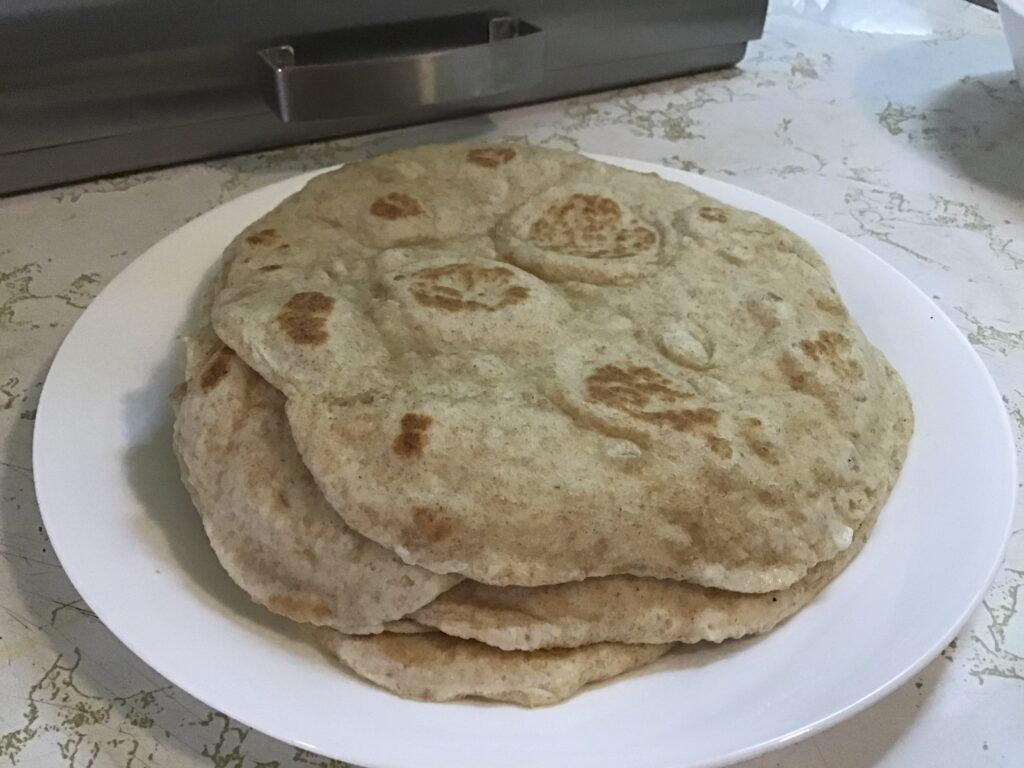 One of the more ambitious and time consuming food preservation projects this past week, has been to wash, peel, dice, dehydrate, and package 20 pounds of Ontario grown carrots. They were a $3.94 purchase, a deal that will not appear again until next harvest season, but possibly not at the same low price in the future. It was a lot of work, so I do hope we like them preserved this way! The advantage is that they take up very little room on the pantry shelf, and that saves us from having to store them in the freezer. As it turns out, we don't care much for frozen carrots, or for canned carrots, so hopefully these will meet with our approval. As with most new things, time will tell.
Worldly
Weather
19°C
Date: 8:00 PM EDT Saturday 26 September 2020
Condition: Mostly Cloudy
Pressure: 101.2 kPa
Tendency: Falling
Temperature: 19.0°C
Dew point: 15.8°C
Humidity: 82%
Wind: SE 5 km/h
Visibility: 24 km
Quote
"Forever is composed of nows."
Emily Dickinson
1830 – 1886

I agree with this. However, in light of the current global Pandemic, as we are standing on the threshold of the second wave, forever is taking on a whole new light. Is forever merely a concept of living, I wonder?