Today I had the pleasure of browsing through my bookcase, and a special book caught my eye. It was a gift.

One of the significant contexts of my life was Graduate School. I met some truly wonderful people during those years. One of them was Jeremy. He was funny, smart, kind, and a kid compared to me. I was much older than all of the other graduate students in the department, at that time. He had grown up in England, his father an Anglican priest, his mother a woman of colour born in Jamaica.

Jeremy's graduate research took him to Jamaica, the birth place of his mother. He used to send me postcards from Jamaica, I still have a few of them. One year, when we resumed classes, he brought back a book for me, called Lionheart Gal: Life Stories of Jamaican Women, by Sistren with Honor Ford Smith (1987). I treasured the book, it was meaningful to Jeremy, a connection with his Mother, who was a Jamaican woman by birth.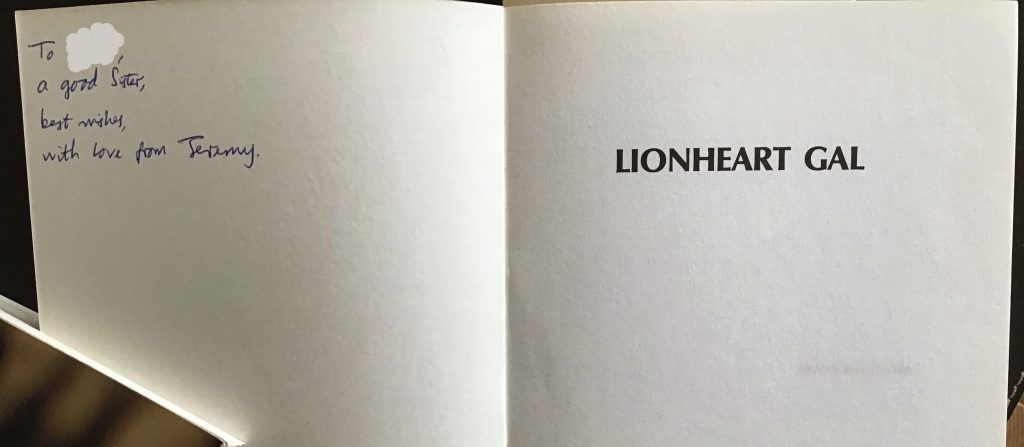 A year or so ago I was chatting with an old friend from that period of my life, catching up on the news. It was then I discovered that Jeremy had passed away. What sad news that was. Apparently he had contracted a serious but curable disease, I can't remember which one, but decided to self-treat with herbal remedies. They didn't work, and he lost his life.

But when I hold this book in my hand, I do not think about how Jeremy left us, I think about how wonderful it was to have known him, enjoyed his humour, his company, and a wee bit of his heart.
Worldly
Weather
17°C
Date: 1:00 PM EDT Thursday 26 September 2019
Condition: Mostly Cloudy
Pressure: 100.6 kPa
Tendency: Rising
Temperature: 17.3°C
Dew point: 16.1°C
Humidity: 93%
Wind: W 19 km/h
Visibility: 24 km
Quote
"The most beautiful discovery true friends make is that they can grow separately without growing apart."
Elisabeth Foley