My brother with our dog, by the tractor. This was taken on our fruit farm in Niagara the summer of 1957.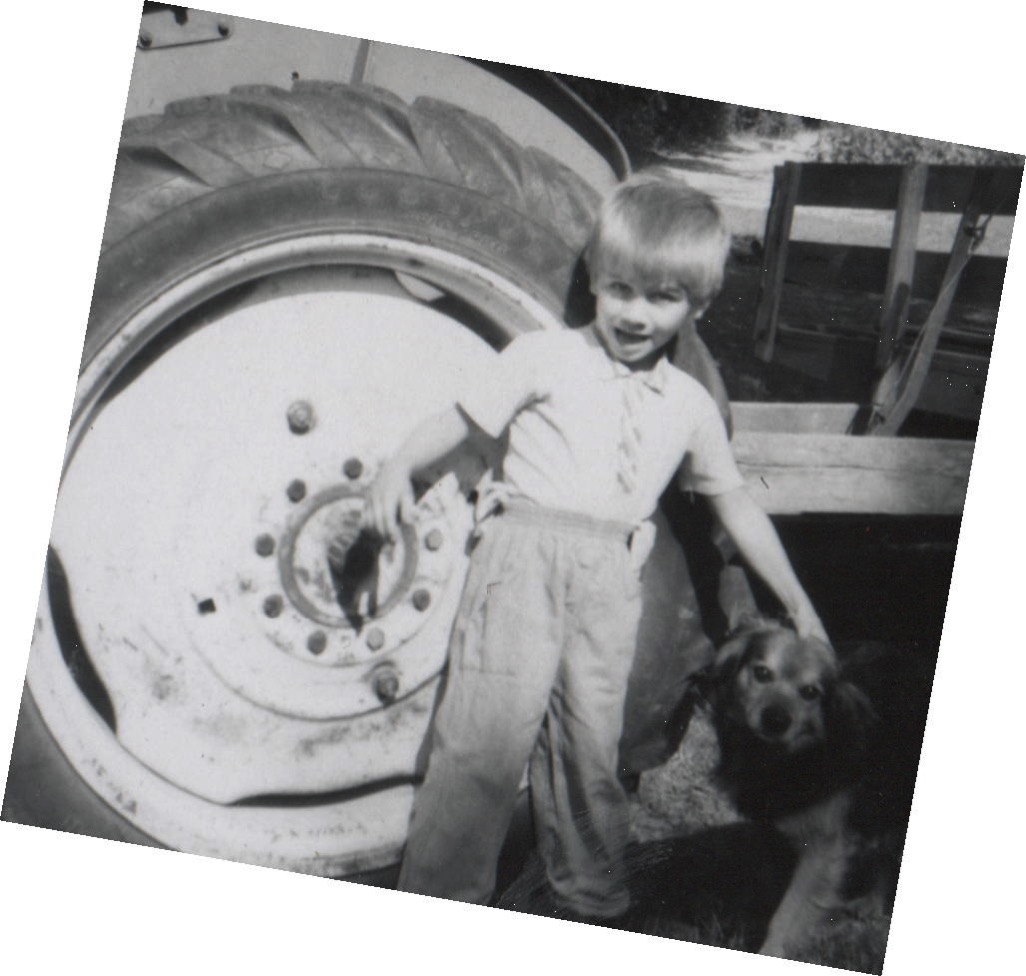 How many times I have written this entry, how many times minus one I have been overwhelmed with emotion, deleted it, closed the program, risen from my chair, and wandered away to do something, anything, to keep my conscious mind busy.
There is a hole in my universe, an empty space where there was once an energy, a voice, bedrock, a known corner of the world. I find myself leaking, emotions, tears, thoughts…
My eldest brother died on Sunday, July 17, at 11:20 a.m. We were there by his side, Attila and I, my Mom, my sisters and their partners, my brothers, one in person and one in spirit who could not be there. For four days we kept watch at my brother's bedside, hoping against the odds that he would show signs of life, the fluttering of an eyelid, an attempt to talk, a movement of the hand. Attila and I sat quietly with him the day they raised his body temperature, suspended the sedation, waiting for him to open his eyes, to know we were there. But it was his time, and no matter how hard we hoped for his company, it was not to be. I will be forever grateful that I got to hold his hand at the end of his life, as I held it when he first appeared in my life, so many decades ago.
He had had a heart attack. He collapsed just after the ambulance arrived after having trouble catching his brea†h. He was unconscious and without a pulse for ten minutes on his way into the Emergency department at the hospital, and his pulse was lost a second time. After four days on life support, and extensive testing, we had to accept that he had suffered brain death, and would not recover. I found it very hard to accept, he looked so rosy and heathy and peaceful; his body was being kept alive by the life support measures that were in place.
The doctor and nurses Joseph and Sharon in the ICU were wonderful. The doctor talked to us daily, answered any and all questions with gentleness and patience, and kept my Mom informed up to the minute. My brother became an organ donor, making it possible for three people to live healthy lives.
We said our goodbyes. All of our lives there have been the six of us, and it just feels wrong that now we are five.
There are many ways in which I am mourning my little brother, some of them bittersweet, some of them are soft and glowing, and some of them are involved and difficult. He was a complex and intelligent man, courageous in all circumstances, fiercely protective of family, and he has left an indelible mark on the lives of those who loved him.
Safe journey little brother, walk with the angels.