And so it begins. Or rather, it has begun. After a quick shopping trip this morning, to pick up one last item for the project, Attila began to remove the bedroom window. The first step was to remove the storm window, and he had that done so quickly that I failed to get a picture of it! Then the window itself was ready to come out, and I did get a picture of the hole left when it had been removed.
The old window was a huge double-hung window, with a bottom pane so large and heavy that I had great difficulty in opening the thing. That bottom section of the window was so heavy that it has twice snapped the wood pieces I tried to use to prop it open. It was awkward too, after getting the bottom section lifted up, to then try to open the very old, very sticky, storm window. The single pane glass was noticeably cold all winter long. I will not miss that window for one single second.
The new window is double-glazed, is constructed of wood, aluminum and vinyl, and I can open it with no problem. It does not need to be propped open with a stick, it stays at whatever height to which it is opened. it is energy efficient, and easy to use. It is a used window, that we paid $50 for, so the project is affordable, even on our budget.
For now though, I have a hole in my house, a very big hole. Thank goodness the day is relatively mild. There are some clouds, but no rain. Since this window opens onto the covered porch, the project could have been tackled even if it were raining. By tonight, there will be a new-to-us window where the hole is now. By tomorrow night there will be insulation, vapour barrier, drywall and window trim installed.
When this project is done, there are only the windows in the living room and the front bedroom to replace. We plan on putting attractive, energy efficient windows in these rooms. They face the street and will affect the curb appeal of the house. The present windows in these rooms are horrid, single pane windows with poorly functioning storm windows covering them, one of the screens is falling out. They let in the cold, and the heat, and the bugs. The bugs ensure that these windows are always very dirty, they are almost impossible to clean. The living room and front bedroom windows are not at the top of our project list though; the garage is far more disgusting, and it is the next project we are saving for. Hopefully next summer Attila will tackle the garage.
And then… there is a long list of renovations that still need doing, a lifetime of renovating. This little house was built from spare parts, soundly but haphazardly, and then neglected for the most part, until we bought it. We have done quite a bit, the roof no longer leaks, the basement is dry, most of our heat is supplied by an energy efficient heat pump, many windows have been upgraded, the bathroom was gutted and rebuilt from scratch, the siding was stripped of paint and repainted… the list goes on.
The constant chaos of living inside a long-term renovation project is not all that much fun, but we manage. Money would speed things up, but money is what we do not have, so sweat equity, and time, are what we invest.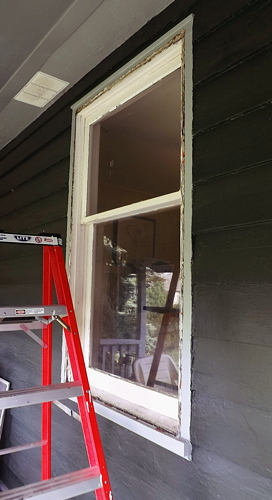 The storm window is off, and the single pane glass window is ready to come out. As you can see, the bottom section of this window is very large, and it is very, very heavy, so that opening this window was quite a feat of strength on my part!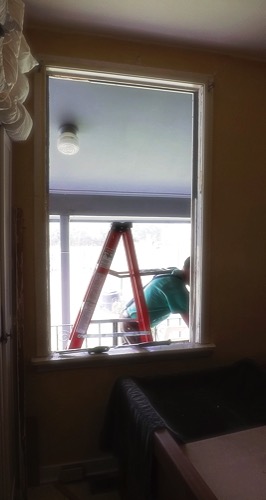 The window is out, and its absence leaves a very big hole in the house! The bedroom door is shut tight, to keep the cold and bugs out of the rest of the house. It is cold in the back bedroom now, but by Sunday night it will be warmer and snugger than it has ever been.
Worldly Distractions
Weather
16°C
Date: 12:00 PM EDT Saturday 28 October 2017
Condition: Mostly Cloudy
Pressure: 100.8 kPa…
Tendency: Falling
Temperature: 16.3°C
Dew point: 10.0°C
Humidity: 66%
Wind: S 27 gust 37 km/h
Visibility: 24 km
Quote
"He wrapped himself in quotations – as a beggar would enfold himself in the purple of Emperors."
Rudyard Kipling
1865 – 1936
I dedicate this quotation to Dr. Paul Simpson-Housley, wherever you are my dear friend.