To be considered "different" has always been my lot in life. When my troubles were expressed, those around me declared that "everybody has problems", inferring that these difficulties were not a significant source of "difference". I suspect that this credo, rather than representing a philosophy, served to politely say "shut up and put up". When my natural interests and talents, sources of personal joy, were expressed, the "you are different" and "you are weird" kicked in; this was not considered a positive trait. Suddenly I was no longer a member of the "everybody" crowd. In this way, I learned to cherish my difference, and eschew being a member of the "everybody". It only made sense.
One of my "differences" was in the things that I enjoyed as a child, which included the deep satisfaction I felt in picking wild fruits and berries with my Granny and my Aunts. I loved to roam the byways with them, picking wild strawberries, raspberries, blackberries, blueberries, chokecherries, and high bush cranberries. Picking wild fruits is a laborious, time consuming activity, that is on the surface of it and true enough. A lot of energy is expended for low yields. The benefits that I reaped were intangible, and very real to me. The companionship of picking wild fruits and berries with a loved one is one of silent affinity; it extends beyond the corporeal human presence to include the soft earth beneath one's feet, the gentle sky above one's head, the touch, sound, and aroma of the wild flora and fauna within which one finds oneself. For me, picking wild fruits and berries is to experience communion. Picking wild fruits and berries feeds my soul with a quiet joy.
Yesterday we visited the camp. Attila and I sat under the trees, a deep thirst-slaking silence between us, taking in the distant wave of the wind across the fields, the chattering leaves above us, the dappled sunlight, and the occasional bird call. We let that wild peace soak into us.
As we sat there I noticed a chokecherry tree in the field across the road. The fruit was fully ripened, flashing a deep red as the tree's leaves fluttered.
I rooted around in the camp box, found a plastic cup, and headed across the road to harvest some of the chokecherries. After picking all the cherries I could reach, my cup was half full.
Chokecherries are bitter sweet, more bitter than sweet. I like them raw, but I like chokecherry jelly better. However, I did not have enough chokecherries to make a jelly, so I made syrup instead. Delicious! This is a taste from my early childhood, when Granny's chokecherry jelly was often on her table at breakfast, and for bedtime snacks. On my tongue it tastes like love.
Fresh Chokecherries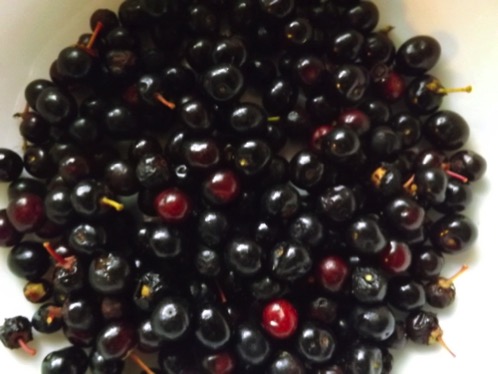 I also noticed a few bushes with ripening high bush cranberries in the distant fields. Since we have lots of jams and jellies in our stores at the moment, I decided not to pick them for jelly, not this year.
The trip to the camp had an ulterior motive. We are continuing to purge at the country house. We had a full car load of perfectly functional items that we no longer use. We donated them to the "dump store", where these items are available to local residents for the price of a donation. The donation goes to the local Volunteer Fire Department. The donation will lighten our load when it is time to move, and conceivably benefit local people.
That was how we spent Attila's one day off work.
Today I discovered a new little thing, or not so little thing, about how the other half lives… a problem, and a solution, I never knew existed! It just never came up in casual conversation, I wonder why. Can you guess what it is before clicking on the link?
Worldly Distractions
Weather
17°C
Date: 8:00 AM EDT Monday 24 August 2015
Condition: Sunny
Pressure: 100.8 kPa
Visibility: 16 km
Temperature: 17.2°C
Dewpoint: 15.9°C
Humidity: 92%
Wind: WSW 11 km/h
Quote
"There is a healthful hardiness about real dignity that never dreads contact and communion with others, however humble."
Washington Irving
1783 – 1859