Home



Here are a few of my favorite online haunts:

REALTOR.ca
[This is the site I visit to fantasize about living in Toronto again, which is almost every single day during the winter]

Jonathan Cainer's Zodiac Forecasts
[This is where I visit in the morning, when I need a positive spin on things past, present and future.]

Living Local
[This is where I go to see what Canadians are up to, sometimes I even buy things from the businesses listed there.]

Environment Canada Weather
[This is the site I visit every morning, and before every road trip during the winter]

The curse and blessing of our present location is that Attila and I are surviving here, in a physical sense. Attila makes just enough money to cover most of the basics, which are vital to survival. We have a roof over our heads, warmth, food and sometimes each other's company. These are blessings not to be taken for granted.

The cost of this survival is isolation for me, and overwork for Attila.

I like my own company, Attila enjoys working; all in moderation.

We are desperately seeking moderation.

Caitrìona called to chat on Sunday. She is enjoying her stay in Florida. She has been enjoying walks on the beech and a host of activities with her friends. An avid bridge player, she plays daily. Always wonderful to hear her voice.

Harriet and I have been experimenting with Skype, which I can now use because we have a high speed internet connection. Although NOTHING can replace spending time with another human being, the video function on Skype allows me to see Harriet's face, her facial expressions, see her as she sits in her home, as we speak to one another. Very cheering, I will say!

Terra got Skype going yesterday and we had fun with it. She just had her hair cut and I got to see how it looks, which is great!

Attila and I have been thinking of Hogan a lot lately, as he is facing some serious health issues. I feel he will come through this challenge with flying colours. He is like that. Still, it isn't a lot of fun for him.

Terra begins her course today. Congratulations to her!

Our new car is a Toyota. So the recent concern over the accelerator pedal mechanically sticking has been on our minds. I just received my first communication from Toyota, thank goodness. We haven't had an issue yet, and they do give specific suggestions in how to deal with a sticking accelerator pedal. I'll have to review that before I drive the car again!

After the cold snap came the snow. It is snowing heavily out there this morning. There were snow squalls all day Sunday and Monday. The roads were not good, so we stayed home for Attila's one day off work. Attila spent his day chopping wood, for the three fires we needed to keep the house comfortable, and removing snow. He used the snow blower twice on the driveway yesterday, and shoveled the snow off the deck and the roof of the porch.

My stomach has take a turn for the worse, despite the medication I am taking. The only appointment I could get with the doctor was last night, during a snow storm. No other appointments available until the last week of February, said the receptionist. Nothing for it but to hop in the car and make the one hour drive to the doctors office. The roads were snow packed and it snowed heavily. However, luck was with us, it was day light on the drive to the doctor's office and there weren't many other fools out driving on the roads, in the dark, in a snowstorm, as we headed back home. Driving in a snowstorm is always a lot less stressful when you are alone on the road.

The upshot of the visit is an optimistic, temporary diagnosis of hiatus hernia, another prescription and some lifestyle changes. My blood work is "great!", so that rules out a lot of scary things. I've an ultrasound coming up this month, so we will know more after that.

The silver lining here is that I get to eat many, many times each day! Not very much each time, mind you, but think of the variety!

We had a very pleasant day on Sunday. Attila and I did get a chance to chat for several hours, which always cheers us up immeasurably. We had a real heart to heart about the finances, and came up with a temporary plan of attack, making it possible to maintain the CAA membership, but not the cell phone. It is wonderful when we have enough time together to talk things out. Time is the first thing on our moderation list!


RECIPES :: Cast




Worldly Distractions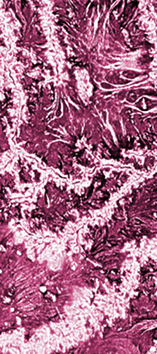 Patterns, always fascinating.





On The Screen


Harriet and Terra's Smiling Faces via Skype





By The Easy Chair


When it stops snowing (ha!), I am going to the library!





Quote


"Divide each difficulty into as many parts as is feasible and necessary to resolve it."
Rene Descartes





Weather


Condition:Snow
Pressure:102.3 kPa
Visibility:16 km
Temperature:-8.0°C
Dewpoint:-10.1°C
Humidity:85 %
Wind:S 4 km/h
Wind Chill:-10