Home



Here are a few of my favorite online haunts:

REALTOR.ca
[This is the site I visit to fantasize about living in Toronto again, which is almost every single day during the winter]

Jonathan Cainer's Zodiac Forecasts
[This is where I visit in the morning, when I need a positive spin on things past, present and future.]

Living Local
[This is where I go to see what Canadians are up to, sometimes I even buy things from the businesses listed there.]

Environment Canada Weather
[This is the site I visit every morning, and before every road trip during the winter]

Funny how a little bit of light can go a long way to making you feel great. I was sitting at my computer this morning, raised my head to look around me and out of the windows. There it was, a small bit of sunlight lighting up the snowy tips of tall pine tree on the ridge. The sight gave me an instant rush of pleasure, no thought, no musing, just a feeling of pleasure.

I've been notified that I will be offered a total of 18 hours of work next month, February, spread over six days. That won't add up to a car payment, but it will cover the cost of gas and then some; so it is good news, if you look at it from a particular perspective.

Exercise is very hard to come by during the winter, at least for me it is. The side roads in winter are narrow and icy, with lots of blind corners and hills, so that the pickup trucks barrelling along can be tricky to dodge. The busy highways are just plain dangerous. Not a good place for walking. I miss the sidewalks of urban areas. I couldn't afford a gym even if there was one, which there is not.

When I go to the grocery store, about once every two weeks, I walk up and down every single aisle to maximize my activity. At home I try to move around as much as possible, but our heated living space is small for the purposes of exercise. Attila has setup my ancient, recycled treadmill, and I have used it several times. But it is very loud and the walk is very boring, so it does not call to me and I must force myself to spend time on it.

Today my itinerary includes a bit of web site development and a bit of genealogy research. I may bake bread, but since there is an extra loaf in the freezer I can put that off for a day or two. I may make applesauce, but that also may be put off for another day.

My friend Mary Milne has a big heart. In the years I've known her she has always tried to help others, gone out of her way to help others. For instance, on Christmas Day, in better times, Mary would get up early to start cooking, and opened her doors later in the day to share that Christmas feast with those of us who were spending Christmas on our own. Mary is a good person and deserves a good life and a great deal of respect. If any Canadian deserves to hold their head high and live with dignity, Mary would be one of them.

Recently Mary was interviewed by CBC host of The Current, Anna Maria Tremonti, in a piece entitled Seniors & Nutrition. Although I feel sad that Mary, like many of us, is in a tough position after having worked hard all her life, I remain impressed with her spirit and how well she manages despite the inequities and large "cracks" that good people fall into, in Canadian society.
God Bless, Mary, God Bless.

RECIPES :: Cast



Worldly Distractions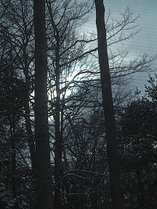 Winter Sky





On The Screen


Around the Bend
Starring Christopher Walken, Michael Caine





Quote


"For an adult, living with dignity is being able to provide for yourself and your family. It is having the confidence to face the challenges of life, it is knowing that you won't be refused service. Dignity is being able to sleep at night in warmth and comfort, unencumbered by concerns of basic survival."
CPJ, Citizens for Public Justice
Dignity and Human Rights: Action Towards Eliminating Poverty in Canada Presentation to the HUMA Committee Study on the federal government's role in reducing poverty.
June 9, 2009
[While I do not share this organizations focus on religious beliefs, I do agree with much of what they are saying about the current state of Canadian society.]





Weather


-12°C
Clear
Feels Like: -18
Wind: N 11km/h
Sunrise: 7:48
Sunset: 17:08
Relative Humidity: 85%
Pressure: 101.92 kPa
Visibility: 14.0 km
Ceiling: unlimited