Home



Here are a few of my favorite online haunts:

REALTOR.ca
[This is the site I visit to fantasize about living in Toronto again, which is almost every single day during the winter]

Jonathan Cainer's Zodiac Forecasts
[This is where I visit in the morning, when I need a positive spin on things past, present and future.]

Living Local
[This is where I go to see what Canadians are up to, sometimes I even buy things from the businesses listed there.]

Environment Canada Weather
[This is the site I visit every morning, and before every road trip during the winter]

Terra and Lares have just left for home. We had a great visit. We had fun, played cards, watched movies and ate things we shouldn't eat, but love to eat. We talked about things that matter to us, Haiti, our relationship, our dreams and our feelings. We cried a little and laughed. It was the best kind of weekend.

Caitrìona called this morning. She is enjoying her stay in Florida, not even a bit of cold weather down there can daunt her spirit. I always feel wonderful after chatting with Caitrìona.

I received one missive from Harriet, who is in Berlin for a few weeks on business. Harriet does not enjoy traveling for business. I do hope some of her experiences are pleasurable, despite her busy work schedule.

I was tickled when my Inbox popped up to say there was a message waiting from Steve Paul. As always, Steve Paul's beautiful heart, intelligence and sardonic humour bring the brighter side of existence into focus.

As an added bonus to this bounty of good fortune, Attila had Saturday off work and was here to enjoy the entire visit with Terra and Lares. The universe has been looking out for us.

Terra has a friend that travels to Haiti several times a year to do community work there, such as building a water tower for the community. Terra will be helping her friend by collecting medical supplies such as bandages, and attending a modest fundraiser aimed at purchasing medical supplies for the community in Haiti. We are short on cash here, but luckily had a stockpile of sterilized gauze bandages which we entrusted to Terra, who will direct them to waiting hands of the nurse, who in turn will transport them to the community when she makes her next visit to the community in Haiti.

We couldn't offer much, but we do hope that what we could manage will make a small difference to someone.

Actually, the efforts of Terra's friend are a balm to my wounded heart. My faith in humanity was sorely tested, when I lent my life energy to a humanitarian cause, only to discover there a wasteland of raw ambition and self-interest. It was a very ugly underbelly, one I wish I'd never seen.

Talking with Terra, and being given the opportunity to see what this young woman and her associates are doing, has gone a long way towards restoring my faith, that at least some people act in good faith and out of genuine concern for others.

RECIPES :: Cast



Worldly Distractions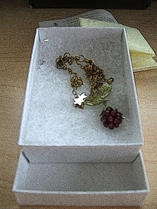 When I was a little girl, my Grandmother, and sometimes my Aunt Marie, would take me with them when they went wild raspberry picking. I loved everything about the experience. To this day, a sunny, sultry summer afternoon in a clearing, or down a deserted country road, will instantly transport me back to that time of joy.
I did take my girls wild berry picking. Terra remembered. Terra and Lares gave me this necklace for Christmas, to remember those times with my Grandmother and Aunt Marie, and to symbolize the continuity of human love and connection.





By The Easy Chair


We've been sitting around the kitchen table playing cards, the chairs were not easy, but we hardly noticed!





Quote


"The benevolent despot who sees himself as a shepherd of the people still demands from others the submissiveness of sheep."
Eric Hoffer





Weather


-2°C
Overcast
Feels Like: -9
Wind: S 26km/h
Sunrise: 7:50
Sunset: 17:04
Relative Humidity: 100%
Pressure: 101.38 kPa
Visibility: 2.0 km
Ceiling: 200 ft