Home



Here are a few of my favorite online haunts:

REALTOR.ca
[This is the site I visit to fantasize about living in Toronto again, which is almost every single day during the winter]

Jonathan Cainer's Zodiac Forecasts
[This is where I visit in the morning, when I need a positive spin on things past, present and future.]

Living Local
[This is where I go to see what Canadians are up to, sometimes I even buy things from the businesses listed there.]

Environment Canada Weather
[This is the site I visit every morning, and before every road trip during the winter]

The wood is split. The windows are wearing their winter layers of insulation. The new metal roof is waiting patiently to show off it's amazing ability to shed snow. We are ready for winter.

The weather has been chilly and damp, but not really cold. It is beginning to dip below freezing at night, but everything thaws the next morning. The forecast predicts warmer weather, even a high of ten degrees centigrade next week.

We have been very, very busy. Our preparations for winter included completing the windows on the new screened in porch. Although it is almost there, the rest of the job will have to wait for spring now. It is winter ready and sports a wonderful metal roof to match the rest of the house.

I have been working a lot of overtime. I dream about my job, obsessing about the many things I do not know, and have no reliable or pleasant way of learning. I know the problem isn't me. I know it is the way of big companies. And yet the will to do a good job will not abandon me.

Our big purge continues. We sorted through a lifetime collection of assorted Christmas ornaments. Most of these were given to me during the years I was a single parent. Kindly folks would pass along decorations they no longer needed, and I kept them all. No longer. Attila and I filled three bank boxes with keepsake ornaments, near and dear to us. The remaining ornaments filled four more boxes and these have been sent along to a church bazaar. Whatever isn't sold will be used as the raw materials for crafts. Very satisfying!

Tonight we are making whole-wheat chocolate oatmeal cookies. I had a craving for chocolate, so Attila mixed up the batter. I am taking the batter from the bowel to the pan and then baking them in the oven. Attila makes these from a recipe in his head. Since we haven't made these for quite a while, the recipe he used tonight needs a bit of tweaking. Never mind, even less than perfect these cooked are a decadent treat, with a bit of nutrition on the side.

Imp and Elf are doing very well indeed. Both are gaining weight, and by all accounts are becoming more alert and aware of the world around them. I keep a picture of them, taken when they were five weeks old, on the desktop of my computer. Every night Attila and I call to them, "goodnight babies". As the monitor closes down the last image to dim are their eyes, which seem to follow us as we make our way towards our big warm bed.

Several weeks ago we enjoyed a whirlwind visit from Luna, Janus, Benny, Bim, Imp and Elf. All six of them rolled into the house in a warm happy wave. The visit was short, just overnight. I don't think any of them actually slept, except Benny and Bim of course. Like all excellent dogs, they made themselves at home and got their rest. Attila and I did nothing but hold our grand-babies. What wonderful little beings they are!

They all tumbled into their vehicle before light the next morning and headed off towards home. It is a very good thing that Luna and Janus are young and full of energy! They certainly need it.

We are carrying on here, waking, readying for work, working the day away, returning to our cozy home, readying for the next day, retiring to our big warm bed, then rising before light and beginning all over again.

Life is busy, very, very busy. We enjoy our brief moments of down time, of home time. We always have something to look forward to!
RECIPES :: Cast



Worldly Distractions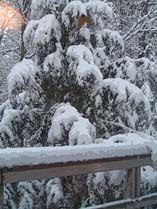 November 3, 2006, now it's all gone!





On the Screen


TransAmerica





Weather


Temperature -3°C
Pressur 103.0 kPa
Visibility 10 km
Humidity 94 %
Dewpoint -4°C
Wind calm