Home



Here are a few of my favorite online haunts:

REALTOR.ca
[This is the site I visit to fantasize about living in Toronto again, which is almost every single day during the winter]

Jonathan Cainer's Zodiac Forecasts
[This is where I visit in the morning, when I need a positive spin on things past, present and future.]

Living Local
[This is where I go to see what Canadians are up to, sometimes I even buy things from the businesses listed there.]

Environment Canada Weather
[This is the site I visit every morning, and before every road trip during the winter]

First and foremost, many thanks to those who sent their good wishes to our family while our wee girl was having her heart surgery. It was comforting and heart warming.

It is chilly out there. It is raining and the wind is brisk. It is time to prepare for the coming of winter.

We began curing our masonry fireplace on Thanksgiving weekend. It seems to have worked out very well. For the first week of curing, no significant heat is produced by the fireplace. When the curing is complete, our daily fires begin to charge the thermal mass of the heater. Now, when the temperatures are beginning to dip below freezing at night, the heater is keeping us warm and cozy.

There is nothing I enjoy more than sitting in front of our morning fire, sipping my coffee and watching Attila in his chair, head nodding as he drifts in and out of sleep. The ritual of the early morning fire, that is burned at 5:30 a.m., is the highlight of my day.

It is Sunday, so we slept in a bit and burned our morning fire much later than is usual. Attila was rather more awake than is usual, due to the late morning hour. Quiet conversation, a roaring fire, Mist on my lap, a hot cup of coffee beside me... what a life!

This quiet time in front of the morning fire sustains me through the ensuing hours, when I am exposed to the petty office politics that dominate my workplace. As far as the workplace is concerned, I try to develop a thick skin. I have failed so far. The only time people in that office seem happy and cheerful is when one of us is about to be fired. A lot of people are fired by this firm, I have discovered. Although I would be in excellent company if I were the next to be fired, that is cold comfort. It is not a happy place, and like the others, I am not happy to be there, just happy to have a job.

Our wee granddaughter, Imp, is doing very well. She survived her heart surgery, and is now gaining weight. She has additional heart troubles that she may or may not grow out of. For the moment, they do not pose a health threat. Elf, our grandson, is gaining weight and thriving. Imp and Elf are now over a month old!

After the trauma of Imp's surgery, I find myself longing to hold her, to feel her fingers and her toes, stroke her head and listen to her breathing. I need to touch her to know she is OK. My head knows that she is OK, I just need to touch her, to know for myself, concretely. There is no substitute for human touch.
In September Attila and I visited the Hershey's Chocolate Shoppe in Smith's Falls, Ontario. We purchased what must have been a bushel of chocolate. It came in handy during the wait for news of Imp's surgery and recovery. There is nothing like chocolate to nurse one through a difficult time. However, I am now carrying my chocolate comfort around with me, subcutaneously, courtesy of Hershey Company.

The whole family has gained as a result of surgery!

Lares, Terra's fiance, had an accident at work this week. Part of one of his fingers had to be amputated. It was quite a shocking experience for him, and it will take some time to adjust to the missing body part. Terra, and the rest of us, are upset but grateful that it was a finger and not his hand, or worse. Life can change in an instant. I just know that Lares will weather this storm, and come out smiling on the other end of it.
RECIPES :: Cast



Worldly Distractions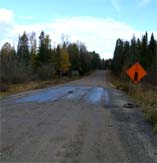 Warning, 50 feet of pavement ahead!
(I took this picture on an afternoon drive in the country.)





By the Easy Chair


Winter-Ready
To-Do List
and a Pen





On the Screen


Mrs. Henderson Presents
starring Judi Dench & Bob Hoskins





WEATHER


Light Rain
Temperature 5°C
Pres. 100.4 kPa
Visibility 8 km
Humidity 97 %
Dewpoint 5°C
Wind ESE 17 km/h
gust 30 km/h