Home



Here are a few of my favorite online haunts:

REALTOR.ca
[This is the site I visit to fantasize about living in Toronto again, which is almost every single day during the winter]

Jonathan Cainer's Zodiac Forecasts
[This is where I visit in the morning, when I need a positive spin on things past, present and future.]

Living Local
[This is where I go to see what Canadians are up to, sometimes I even buy things from the businesses listed there.]

Environment Canada Weather
[This is the site I visit every morning, and before every road trip during the winter]

It is done. We have successfully completed unpacking our food. We moved here two years ago. Since then we were first overwhelmed by the chaos of hastily packed boxes, then unable to cope with organizing and unpacking it all. The last of the boxes were unpacked a while ago. However, much of our food supply sat in boxes all over the house. We knew where it was, so we considered it unpacked. We had nowhere to put it but in boxes, boxes in the bedrooms, boxes in the family room, boxes all over the place.
Then there was the freezer. Food from as far back as 1996 lurked at the bottom of our huge chest freezer. It has been more than a decade since I knew what was in that freezer, or could get my hands on anything that was not lying on the top layer. We found a good home for the huge chest freezer and bought ourselves a much smaller upright freezer.

It has been a journey of discovery and disgust, this project of organizing our food supply.

The freezer switch took only a few days. Pleasant surprises did emerge, such as the bushel of tomatoes from 1996 that cooked up into exceptionally good stewed tomatoes. Some equally old apples have been lovely in squares and various deserts. Another wonderful find was several containers of Pesto, our favorite fast food. There were several shocking objects, best not described and soon forgotten.

Organizing our dry goods took much longer. We purchased end-of-line metal shelving from Home Depot at a bargain price, and carted it home. Next Attila painted the shelves white; this took close to a week. Then we began assembling the shelving units, and adding backs to the enclosed section to keep out the mice. When the first three of the four were ready, we started to collect food from all over the place, remove it from the packing boxes, label it and shelve it. That took several days.

The fourth shelving unit was a bit of a challenge. Things were piled up in the pantry and there was no room for the fourth unit. So, we began to sort through all the boxes of "stuff" we had piled up in there over the past two years. That took the better part of today. Finally, Attila had enough room to assemble and place the last shelving unit. It filled quickly.

It is only one of many projects, but it is done. It has been a long time since Attila and I managed to complete a project. Our home repair projects seem to linger on forever.

I have decided to let go of some of my old computers. I have found a home for the Windows computer; it will go to a single Mom who has gone back to school. I will load it with a copy of Microsoft Office to get her started.
However, I am not stopping there, I have been working on getting my 7300/180 back up to scratch, along with the scanner, CDRW and printer that go with it. I haven't found a home for this system yet. It will have to be someone either very nerdy or already familiar with older Macintosh computers. Again, I will install Microsoft Office to get whoever gets it started.

Moving the old computers out will take a lot of time and energy, because I want them to go to good homes.

The grand purge is how Attila and I are coping with the tail end of a long and harrying winter. There has been an unusual amount of snowfall this year, to which Attila and his little snow shovel will attest. Driving conditions have been treacherous most weekends, so that we haven't been on any sort of outing for weeks. We have not even visited a grocery store.

We are hoping that "out with the old" will herald "in with the new" in the way of spring like weather, or at least some sunshine.
RECIPES :: Cast



Worldly Distractions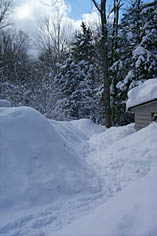 Three weeks till spring.





By the Easy Chair


Library inaccessible due to poor road conditions during time off work.





On the Screen


Star Trek VI
starring same old same old - what fun!





Weather


Temperature -15 °C
Pressure 102.5 kPa?
Humidity
61 %
Dewpoint -21 °C
Wind WNW 5 km/h

Sunrise 7:01
Sunset 18:00