Home



Here are a few of my favorite online haunts:

REALTOR.ca
[This is the site I visit to fantasize about living in Toronto again, which is almost every single day during the winter]

Jonathan Cainer's Zodiac Forecasts
[This is where I visit in the morning, when I need a positive spin on things past, present and future.]

Living Local
[This is where I go to see what Canadians are up to, sometimes I even buy things from the businesses listed there.]

Environment Canada Weather
[This is the site I visit every morning, and before every road trip during the winter]

We have a mini-blizzard going on out there! Snow, driving snow at that, is coming down out of the sky and lying itself down across the newly exposed landscape. The yellow and mauve crocuses in the front yard refuse to come out in this weather. It is melting fast, almost as fast as it is coming down. Winter's last gasp, or so I hope.

I worked for a few hours yesterday. I like the work, the petty politics leave me cold.

I'm baking bread this morning. I need to pay attention to the concrete right now, as I've been happily lost in the bright tunnels of my mind for a few weeks. The genealogy research has been going well, although I've encountered a few dead ends that I can not seem to get through. That is part of the fun though, mysteries to be solved, or not, as fate dictates.

My closet needs a good clean; I think I'll tackle that today. Right now most of the clothes I wear are hung up on door handles, because the closet is packed with thirty years worth of clothes I no longer wear and things I no longer use. Time for a purge.

We are planning and hosting a family BBQ in the next month or so. We are having it in early spring, before the biting insect season begins; at least that is what we are aiming for. I'm looking forward to it, to seeing everyone who can attend. Hopefully the weather will be wonderful for this four generation event.

I picked up a book at the library that I don't really like. However, to my surprise, in the first few chapters there have been two unspoken and underlying philosophical assumptions, made by the author, that have me thinking about the nature of life, and being a human. This is not always a pleasant experience, thinking outside the box, my box. However, I find my differences from the author worth exploring. The author, the story, are not stimulating; the writing, the plot is, in my opinion, obvious, stiff, predictable and simplistic. I will probably continue to read this book, although it certainly isn't a meeting of like minds!

RECIPES :: Cast



Worldly Distractions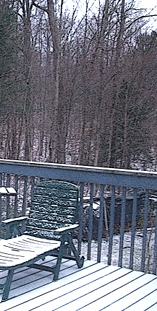 The Thin Coat





Airwaves


The Heart of Saturday Night
Tom Waits





On The Screen


Don't Die Without Telling Me Where You're Going





By The Easy Chair


Roma
by Steven Saylor





Quote


"To one commending an orator for his skill in amplifying petty matters, Agesilaus said, "I do not think that shoemaker a good workman that makes a great shoe for a little foot.""
Plutarch (A.D. 46?–A.D. c. 120)





Weather


-1 °C
Condition: Light Snowshower
Pressure: 100.8 kPa
Visibility: 16 km
Temperature: -0.5°C
Dewpoint: -2.7°C
Humidity: 85 %
Wind: W 18 gust 35 km/h
Wind Chill: -6