Home



Here are a few of my favorite online haunts:

REALTOR.ca
[This is the site I visit to fantasize about living in Toronto again, which is almost every single day during the winter]

Jonathan Cainer's Zodiac Forecasts
[This is where I visit in the morning, when I need a positive spin on things past, present and future.]

Living Local
[This is where I go to see what Canadians are up to, sometimes I even buy things from the businesses listed there.]

Environment Canada Weather
[This is the site I visit every morning, and before every road trip during the winter]

I'm writing from the waiting room of the Toyota dealership. My new car's accelerator pedal is being updated, and the oil is being changed. I am glad I bought a new Toyota. Although I am none too impressed with their upper management, from where I sit in this customer waiting room, the experience is a positive one. Our older car is a Toyota, a 1998 model and still reliable and going strong.

I've been to see my doctor, and the results of my tests all indicate good overall health. No problems with my internal organs or blood work. I'll continue with the medication, to relieve the stomach pain, for another month or so. Then, if all is well, I will forget about the stomach issue. If the pain persists, I'll be back at the doctor's office until I know what is going on. I anticipate that all will be well and I'll simply forget about the whole thing. That is good news.

The roads were snow packed last night, and again this morning. Of course I was out there driving last night and this morning! However, apart from poor visibility, the ride was tranquil. There were no other fools on the road last night, which made that journey an easy one. The other factor, making for a relaxed trip, is that the new car is much heavier and larger than our older Toyota. The new car handles inclement weather and bad roads with ease.

After talking to Harriet, who successfully cuts her own hair, I took the scissors to my own mop. The results are in, I am now officially banning myself from cutting my own hair, or anyone else's hair! The results were absurd. So, yesterday I visited a hairdresser who corrected the problem and then some. I had a good time, she told me the story of her life while she was cutting my hair, and she has not lead a boring life. We also had a good laugh over my do-it-yourself "do", it really was funny. Sorry no pictures, it was a sight best forgotten.
RECIPES :: Cast



Worldly Distractions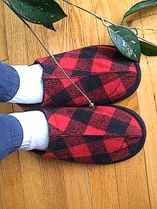 Here are my feet, looking good in their new outfit! These slippers were on sale, feature memory foam soles. They are warm as toast and are a true "fashion find"!
Why is it that men's clothing and footwear is functional and comfortable, while women's clothing and footwear are not?





Quote


"Integrity without knowledge is weak and useless, and knowledge without integrity is dangerous and dreadful."
Samuel Johnson





Weather


-2 °C
Condition: Snow
Pressure: 100.8 kPa
Visibility: 5 km
Temperature: -2.0°C
Dewpoint: -3.1°C
Humidity: 92 %
Wind: W 9 km/h
Wind Chill: -5