Home



Here are a few of my favorite online haunts:

REALTOR.ca
[This is the site I visit to fantasize about living in Toronto again, which is almost every single day during the winter]

Jonathan Cainer's Zodiac Forecasts
[This is where I visit in the morning, when I need a positive spin on things past, present and future.]

Living Local
[This is where I go to see what Canadians are up to, sometimes I even buy things from the businesses listed there.]

Environment Canada Weather
[This is the site I visit every morning, and before every road trip during the winter]

Every so often someone says, sings or writes something that almost perfectly expresses a personal thought, feeling or philosophy.

Yesterday I found one of those rare gems of meaning deep within a site dedicated to zodiac forecasts. The forecast for my sign, Aquarius, included this gem:

"To a tailor, they are bodies, waiting to be clothed. To a hairdresser, they are heads waiting to be trimmed. But what are people? Customers? Clients? Consumers? Or sensitive, intelligent, beautiful human beings who are worth far more than to be treated as walking wallets."
Jonathan Cainer

The walking wallet concept describes what I see around me, day after day, with rare exception. People treat each other as walking wallets almost exclusively where we live. Every social contact I have these days, with the exception of my family and friends, requires an expenditure of money. Try living without it for a while and you will see what I mean. Even volunteer work requires cash for transportation to and from. Most pleas for support from charitable organizations are pleas for cash. If you really care, you will send cash.

For me this "walking wallet" concept is linked to the efforts to help the victims in Haiti. Most of us feel compassion and concern for the people of Haiti, some of us have always felt compassion and concern for people living in third world economies.

How to help? That is a tough one, because we aren't there. We can't load blankets and food into our cars and drive down the road to offer assistance. We can't listen to and honour the stories that people need to tell. We can't mind the children, assist with meals and burials.

We must engage a "middleman" to take currency from us and convert it into human compassion. This is an inherently flawed system. Unfortunately it is the only system available to the majority of humans on planet earth, so for most of us this is how we have to help.

They say an ounce of prevention is worth a pound of cure. Now the people of Haiti are paying the pound of cure, because they/we failed to perceive that an ounce of prevention was needed.

We, as a species, have always displayed this social myopia. We do not learn from history, because events like natural disasters, in New Orleans and Haiti for example, and situations like hunger and want, still flourish around the planet.

Every crisis is an opportunity to make money, and it is no secret that somebody does make money (or attain power and influence) in the process of restoring the social order when disasters strike.

Not every human on planet earth regards others primarily as "walking wallets". They know who they are. You won't find them accepting accolades in the news media, or making huge public gestures of compassion and caring. You will find them quietly taking action, where and when they can. They don't need your cash, and they would appreciate a helping hand.


RECIPES :: Cast

The

Worldly Distractions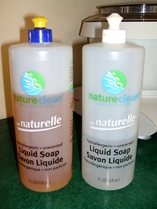 This is a picture of what we use for shampoo and conditioner. No carcinogens here.
On the left is a bottle of Naturelle Liquid Soap, no nasty chemicals, which is what we use as shampoo. On the right is a used Naturelle bottle containing one part white vinegar and three parts water, which is what we use as conditioner. Note that I have replaced the original caps with caps saved from dish detergent bottles, reused.
When we first used the product, after using commercial shampoos, our hair was matted and not all that great. BUT, after a week or so all that changed and now our hair is silky and shiny when it dries.
Also Note that after rinsing with vinegar I smell like a giant french fry! As my hair dries the vinegar odor completely disappears. Magic!





On The Screen


Ballykissangel





Quote


"Sometimes I lie awake at night, and ask, 'Where have I gone wrong?' Then a voice says to me, 'This is going to take more than one night.'"
Charles M. Schulz


"Never be afraid to try something new. Remember, amateurs built the ark. Professionals built the Titanic."
Unknown





Weather


-27 °C
Condition: Clear
Pressure: 101.4 kPa
Visibility: 16 km
Temperature: -27.0°C
Dewpoint: -29.8°C
Humidity: 78 %
Wind: calm