Home



Here are a few of my favorite online haunts:

REALTOR.ca
[This is the site I visit to fantasize about living in Toronto again, which is almost every single day during the winter]

Jonathan Cainer's Zodiac Forecasts
[This is where I visit in the morning, when I need a positive spin on things past, present and future.]

Living Local
[This is where I go to see what Canadians are up to, sometimes I even buy things from the businesses listed there.]

Environment Canada Weather
[This is the site I visit every morning, and before every road trip during the winter]

What do people intend? What I've found is that people seldom understand their own motivations, let alone the motivations of others.

Lately I've been puzzled by some of the behavior I am observing in my world. I'm watching both the nice and the nasty, to see what lies behind the scenes. Things are seldom as they seem initially, and rather than waste any precious life force trying to decipher motivations and agendas, I've decided to simply wait and see.

In the meantime, Attila and I are having a wonderful Thanksgiving weekend. On Friday night our daughters Terra and Luna and their hubbies and the grandchildren and the granddogs arrived, to stay the night and share a Thanksgiving feast with us on Saturday.

We love having them all here! The activity, the chaos, the food, the conversations, the one month old Tink, the three year old Imp and Elf... Attila and I agree, everything about having a house full of loved ones is wonderful.

Terra brought us some Naan bread, carefully selected to accommodate my allergy. A new culinary discovery! Yum!

I have completed the training for my new job, which is casual, on-call and may, or may not, provide me with enough hours to support the car I had to purchase to commit to the job. We have our fingers crossed and are hoping for the best; it is all we can do. I continue to send out weekly applications for employment, you never know when a job that could support a car, and even shelter and food and health care as well, will come up.

Attila and I took the plunge and purchased a new little car, a second vehicle, so that I would have the necessary transportation to accept this new position. For years to come this car will own us.

Having a second car has changed our lives, as we knew it would. Not having a car in rural North America is a very serious social barrier. That barrier has now been lifted, at least temporarily. My first act of freedom was a trip to the Post Office to mail some important documents before the daily mail truck left. It felt wonderful to actually complete a task on the correct side of a deadline.

Autumn is definitely here. Yesterday we awoke to find a skiff of snow on the deck. It melted within minutes of daybreak, but there it was nevertheless. There were several heavy snow falls yesterday, which lasted only a few minutes each. The snow melted on contact with the earth, no shoveling yet! Attila has been burning fires daily in our little wood stove downstairs. Next week we will begin the process of curing the masonry fireplace, which requires us to stay very close to home for five consecutive days.

So, some changes over the last week, a new on-call job for me, a new car for the job, a visit from loved ones and a whole long weekend to enjoy Attila's company. Life is good.
RECIPES :: Cast



Worldly Distractions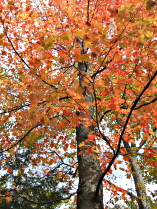 The view at breakfast this morning.





On The Screen


City by the Sea
starring Robert DeNiro





Quote


"For everything there is a season,
and a time for every purpose under heaven"
Ecclesiastes 3:1




Weather


3 °C
Condition: Light Rain shower
Pressure: 102.8 kPa
Tendency: steady
Visibility: 15 km
Temperature: 3.0°C
Dewpoint: 1.0°C
Humidity: 87%
Wind: ENE 5 km/h