Home



Here are a few of my favorite online haunts:

REALTOR.ca
[This is the site I visit to fantasize about living in Toronto again, which is almost every single day during the winter]

Jonathan Cainer's Zodiac Forecasts
[This is where I visit in the morning, when I need a positive spin on things past, present and future.]

Living Local
[This is where I go to see what Canadians are up to, sometimes I even buy things from the businesses listed there.]

Environment Canada Weather
[This is the site I visit every morning, and before every road trip during the winter]

My training involved driving over 100 km to attend a class. On Wednesday morning the drive there was challenging, heavy rain and winds gusting to 90 km per hour, which hit the car broadside. Vehicles were weaving all over the road.

The drive home, later that afternoon, was a nightmare. I am still shaking today. In addition to the high speed gusts there was blowing snow. At one point I knew from memory that a transport truck was directly behind me, a car directly in front of me and the road, well, except for the two tracks in front of the headlights I had no idea where the other vehicles or the road were. "White out" is what they call it and it is extremely dangerous. The vehicles were traveling at 100 km an hour when the snow blew over us. I couldn't tell where the side of the road was to get off, and I knew that if I stopped the likelihood of being hit from behind was very high. After about ten minutes of this I was soaked with sweat, and by the time I could see a whole car length in front of me I was shaking. But I kept on going, no other choices were available.

When visibility improved, I knew things were still very bad. The transport truck behind me pulled out to pass because he felt I was going to slow. He encountered a gust of wind, tucked back in behind my little, slow moving vehicle and stayed there until I turned off at my exit, 60 km down the road.

I am home, I am alive. I will not travel to class again if this kind of weather is predicted. But last Wednesday they did not predict white outs, just blowing snow. I'll not be traveling during blowing snow warnings again.

There is a very sound reason why Attila and I become so isolated in the winter; that drive served to remind me just how treacherous winter driving is in our neck of the woods.

It is sunny today! Attila is outside puttering in the sheds, rearranging things so that we can continue to declutter the lower floor of the house. I am doing my part by packing things into boxes, and carefully labeling them so that Attila can move them into the back kitchen to be stored.

The snow is retreating, but not gone by any means. There is no sign of the earth below around our property, although the sides of the nearby highway are clear and dry. The highways are sanded and salted, and do not reflect the natural state of snow in the area.

Attila and I are taking today to celebrate our anniversary. We were married, around the same time we moved here, at our previous little house in the city. That was five years ago. Much has changed since then, and much has not. We have settled into this house very nicely, and it really feels like home. Attila is going to make Coquilles St Jacques a La Provencale for our dinner tonight, and we will relax a little in front of the fire afterward, with our feet up and our good friend Mist cuddled up close.
RECIPES :: Cast



Worldly Distractions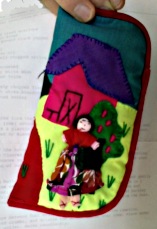 I've had this eyeglasses case for a very long time, so long in fact that I don't remember where or when I got it! I love the colours and it is very handy to have when I am changing my specs frequently.





Quote


"So closely interwoven have been our lives, our purposes, and experiences that, separated, we have a feeling of incompleteness—united, such strength of self-association that no ordinary obstacles, difficulties, or dangers ever appear to us insurmountable."
Elizabeth Cady Stanton
(1815–1902)





Weather


-1 °C
Clear
Feels Like: -5
Wind: S 11km/h
Sunrise: 7:31
Sunset: 19:22
Relative Humidity: 59%
Pressure: 102.41 kPa
Visibility: 14.0 km
Ceiling: unlimited