Home



Here are a few of my favorite online haunts:

REALTOR.ca
[This is the site I visit to fantasize about living in Toronto again, which is almost every single day during the winter]

Jonathan Cainer's Zodiac Forecasts
[This is where I visit in the morning, when I need a positive spin on things past, present and future.]

Living Local
[This is where I go to see what Canadians are up to, sometimes I even buy things from the businesses listed there.]

Environment Canada Weather
[This is the site I visit every morning, and before every road trip during the winter]

Attila and I have big plans for tonight. The library is open, until 7 p.m. this evening, for the first time ever. This means that after Attila gets home from work, we can visit the library together. Now we have two accessible entertainment options, the library and the grocery store.

Yesterday evening I finally organized and stored all the frozen food in the upright freezer. There is only one bag of geriatric odds and ends that have yet to be identified and consumed. Once these items are dealt with, I plan on keeping a close eye on just what goes into the freezers and what comes out.

I got up for a drink of water during the night and found that the power was out. It was still out when we arose this morning, and came back on around 6 a.m. Thank goodness; I don't much care for instant coffee which is all we can manage on short notice, on the camp stove out on the porch.

Since the temperature is steadily falling, three firings are needed to keep the house reasonably comfortable. Attila had to spend some extra time splitting and toting wood this morning to ensure a midday fire. This will tie in nicely with our trip to the library, as the evening fire, the third fire, can be delayed until we return from our outing.

Yesterday's snow erased the animal tracks from the yard. Once again the tree branches are laden with heavy pillows of snow, and are swaying pendulously in the breeze. It is beautiful out there.

I am feeling self congratulatory this morning, that I have created a form and structure to my days, with very little connection to the world at large. This has been accomplished without an internal sense of what one "should" be doing. It took years to let go of the internal "shoulds", and to replace those "shoulds" with prioritized "coulds". Being an extremely stubborn individual, I did not relinquish those powerful "shoulds" with ease or grace, but out of necessity.

Now, when I encounter individuals who are driven by internalized and unconscious"shoulds" of their own, I feel a sense of awe and wonder; that I should be so lucky, as to have discovered, been forced to discover, an alternative that works for me.

This morning there is bread that needs baking, and dishes that need doing. And then, well who knows!
RECIPES :: Cast



Wordly Distractions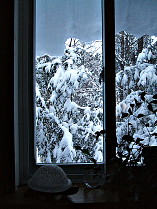 White hanging from the roof and blanketing the hemlocks.





Airwaves


BBC Radio Scotland





In The News


"The Bank of England cuts rates to 1.5%, the lowest level in its 315-year history, as it continues efforts to help the economy."
BBC





On The Screen


Northern Exposure





By The Easy Chair


The Forsyte Saga
by John Galsworthy





Quote


"Censorship, like charity, should begin at home; but, unlike charity, it should end there."
Clare Booth Luce
(1903 - 1987)

"The question should be, is it worth trying to do, not can it be done."
Allard Lowenstein





Weather


Condition: Light Snow
Temperature: -12.6°C
Pressure: 99.3 kPa
Visibility: 9.7 km
Humidity: 82 %
Wind Chill: -20
Dewpoint: -15.0°C
Wind: NW 15 km/h