Home



Here are a few of my favorite online haunts:

REALTOR.ca
[This is the site I visit to fantasize about living in Toronto again, which is almost every single day during the winter]

Jonathan Cainer's Zodiac Forecasts
[This is where I visit in the morning, when I need a positive spin on things past, present and future.]

Living Local
[This is where I go to see what Canadians are up to, sometimes I even buy things from the businesses listed there.]

Environment Canada Weather
[This is the site I visit every morning, and before every road trip during the winter]

The new year began well for us, as we slept in this morning until 6:44 a.m. This statement is not entirely accurate, I slept in until 6:44 a.m. and Attila slept in until 6:47 a.m., when Mist and I woke him, to engage him in a conversation concerning the wisdom of building a fire. Mist decided that the house was simply not warm enough and jumped up on the bed, to settle on my chest, to make her views known. She made perfect sense to me.

This first day of 2009 I am thinking about my maternal grandparents. I was one of the lucky children who had quiet and relaxed times with my grandparents. I have fond memories of sitting on Granny's kitchen-stool, in Granny's kitchen, chattering away, asking questions as I watched her bake pies or bread. She even had an apron for me and let me try my hand. I have memories of time spent fishing with Grandpa, learning how to bait the hook with a worm and how to sit quietly and patiently, listening to water lapping the sides of the boat.

I often wonder just how the family managed to give us that quality time. Anyone could have shown us baking or taken us fishing. Spending time with our elders must have been something that my mother, aunts, uncles and grandparents considered of utmost importance. My grandparents were a 7 to 8 hour drive away from where we lived. There was very little money to be had, or time to be spared for indulgences. Despite any impediments, the relationship with my grandparents was actively enouraged and remained an integral part of my life; an experience shared by all of their 15 grandchildren.

My family valued all generations; in particular the elders were respected, for the richness of their knowledge and experience. How lucky we were, to have learned to appreciate our wealth!

The hydro crews have not reached us yet, to remove the branch hanging on the hydro line in front of the house. This is not an urgent situation, unless we get very high winds again. Since the weather report includes no mention of high winds, I think we are good until such time as the crew arrives to remove the branch.

Attila and I are having a quiet day. I have baked a pumpkin pie to have with our dinner. Since we overindulged in salty foods, like nachos, last night, tonight we are choosing a low sodium, low fat meal, enchiladas. A bit incongrous, Mexican food with pumpkin pie for dessert, but I have no doubt whatsoever that we will enjoy every bite.


RECIPES :: Cast



Wordly Distractions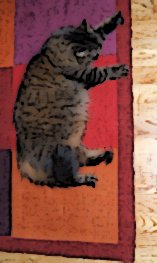 Mist taking a little snooze in front of the fireplace. She is hard at work quality testing the heating system.





Airwaves


Carolina Pines
by Kate Wolf





On The Screen


Bandits
starrring Bruce Willis, Billy Bob Thornton and Cate Blanchett





By The Easy Chair


Outlander
by Diana Gabaldon





Quote


"I have learnt silence from the talkative, toleration from the intolerant, and kindness from the unkind; yet strange, I am ungrateful to these teachers."
Kahlil Gibran
(1883 - 1931)





Weather


Condition: Cloudy
Temperature: -10.0°C
Pressure: 102.5 kPa falling
Visibility: 14.5 km
Humidity: 64 %
Wind Chill: -16
Dewpoint: -15.6°C
Wind: SSE 13 km/h