Home



Here are a few of my favorite online haunts:

REALTOR.ca
[This is the site I visit to fantasize about living in Toronto again, which is almost every single day during the winter]

Jonathan Cainer's Zodiac Forecasts
[This is where I visit in the morning, when I need a positive spin on things past, present and future.]

Living Local
[This is where I go to see what Canadians are up to, sometimes I even buy things from the businesses listed there.]

Environment Canada Weather
[This is the site I visit every morning, and before every road trip during the winter]

Another quiet day dawns and yawns. The sun was shining brightly this morning but has now retreated behind a blanket of clouds. More snow on the way, I am very sorry to say.

The snow plough has already been by this morning, leaving behind enough snow to block the driveway. Attila will have to shovel to get in when he comes home for lunch.

Winter's are very busy for Attila, what with keeping the home fire burning and keeping the snow from burying us completely. These are activities I would love to share with him, but I run a high risk of serious injury, which precludes my participation. It can be pretty hard on a former farm girl, to watch the chores getting done and not be able to turn her shoulder to the wheel. It takes discipline to stop oneself from following one's natural impulses.

Attila is a very active person, so he enjoys his daily sense of accomplishment and control. A break would be nice though, if only from the snow shoveling.

I've spent the morning puttering, reading & writing email messages and sitting in the sun working on a jigsaw puzzle. Sitting in the sun is a "must do" during the winter months. It does not cure isolation, but it does add brightness and light to the day.

The film we recently watched, "Elf", has left a few nagging pieces of shrapnel in my psyche.

I really like this movie, but I have a few problems with a few of the scenes.

The scene involving Buddy the Elf's ignorant but nasty verbal abuse of the unlikable and unbalanced children's book writer, who happened to be a dwarf, is not sitting well with me. I have a lot of respect for the challenges people face when they have to live with being visibly different. As Attila points out, the scene was well set, the man was obnoxious and one disliked him before he appeared on the screen. But obnoxious or not, a man does not deserve to be ridiculed about his physical attributes in any setting, let alone his professional life. The kicker for me was, the people who witnessed the abuse were delighted to find the victim had fled in a flood of emotion and forgotten his notebook.

I am currently harbouring a feeling of righteous indignation towards Buddy the Elf!

Did I hear someone say "get a life!"
RECIPES :: Cast



Wordly Distractions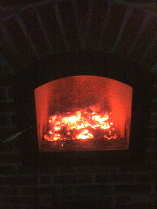 What Mist sees when she looks at Attila.





Airwaves


Oh Holy Night
Pavarotti





By The Easy Chair


The Forsyte Saga
by John Galsworthy





Quote


"One's dignity may be assaulted, vandalized and cruelly mocked, but cannot be taken away unless it is surrendered."
Michael J. Fox
in "Saving Milly"
by Morton Kondrake





Weather


Condition: Cloudy
Temperature: -12.9°C
Pressure: 102.1 kPa falling
Visibility: 4 km
Humidity: 91 %
Wind Chill: -18
Dewpoint: -14.1°C
Wind: SE 9 km/h