Home



Here are a few of my favorite online haunts:

REALTOR.ca
[This is the site I visit to fantasize about living in Toronto again, which is almost every single day during the winter]

Jonathan Cainer's Zodiac Forecasts
[This is where I visit in the morning, when I need a positive spin on things past, present and future.]

Living Local
[This is where I go to see what Canadians are up to, sometimes I even buy things from the businesses listed there.]

Environment Canada Weather
[This is the site I visit every morning, and before every road trip during the winter]

Today is Thanksgiving Day in Canada. We had our big turkey dinner yesterday, with all the trimmings. Terra and Lares were here to share the meal with us. In they came with a lovely centrepiece for the table, and much good cheer. They spent Saturday celebrating Thanksgiving with Lares' mother, a big dinner there. Then a big dinner with us. This morning they left to visit Lares' grandparents, who operate a farm, and there they will enjoy a third big dinner. Then they will roll home!

We have enough turkey left for a few meals of leftovers and then whatever remains will be popped into Attila's soup pot, which will provide us with a few more meals.

This autumn I've been craving squash. I like squash. Realizing that not everyone shares my love of squash, I searched for a new recipe that might be more appealing than plain squash. I found one that sounded promising, changed it significantly to suit my tastes and even Lares liked what I came up with: Spiced Squash.

I have kept the seeds from our Thanksgiving squash, a Butternut squash, and from the squash we purchased in the Holland Marsh and ate last week, a Buttercup squash. I hope to plant these seeds next spring. It is my hope that the bears and local wildlife will take little interest in the squash and that some of the squash will remain intact for us to harvest. It is an experiment that I hope will succeed.

The colour of the autumn leaves has been breathtaking this past week. This morning yellow and red leaves are drifting down past the windows in lazy swirls, one after the other. Yellow, red and dark green fill the senses, in every direction I look. How beautiful autumn is in Canada.

Attila is out splitting wood and gathering a supply of kindling for our winter fires. He has brought me the first bundle of wood so that I can begin the process of curing the masonry heater. The first burn of five has just died down, I will do another small burn in two hours time and then another two hours after that fire has died and so on until bedtime tonight. I'll repeat this process all day for the next five days, with variations on the timing of the fires and the quantity of wood used. There is a recommended formula that I follow fairly closely, that has worked well.

Mist is happy. The joy of a brightly burning fire in the hearth is not lost on Mist.

I have completed washing my little trailer and it is now ready for the winter, sitting cozily in amongst the trees, where I can see it from the window.

This autumn we have invested in two new home appliances. One is a small freezer, very much needed.

The second new appliance is a Bosch Universal Mixer, chosen after a great deal of research and much consideration. This is a major purchase for us. My Zojirushi breadmaker is still functioning well, and has served us tirelessly for over twelve years. However, since it has now become impossible to find edible bread locally, my ability to produce reliable quantities of bread is vital. The Bosch mixer will mix up to four loaves at once, which will be a boon during those times when Attila and I are both employed outside the home. In addition, the Bosch mixer will mix cakes, cookies, quick loaves and muffins. An added bonus is that the clean up with the Bosch is much easier and quicker than the cleanup with the breadmaker.

My little job is almost wrapped up for this year. I will work one more weekend, and then tuck in at home to prepare for the winter months. I do like working, and in particular I like this little job. Who knows if the job will materialize again next spring, times are so uncertain. I haven't worked enough hours to be eligible for any type of employment benefits, so my financial contributions have come to an end, for the moment at least.
RECIPES :: Cast



Wordly Distractions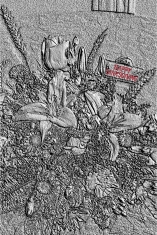 The Thanksgiving Bouquet





On The Screen


The Da Vinci Code
starring Tom Hanks





Quote


Be to her virtues very kind. Be to her faults a little blind.
Matthew Prior (1664 - 1721)





By the Easy Chair


The Golden Compass
by Philip Pullman





Weather


Condition: Sunny
Temperature: 9.5°C
Pressure / Tendency: 102.9
kPa rising
Visibility: 12.9 km
Humidity: 97 %
Dewpoint: 9.1°C
Wind: 0 km/h