Home



Here are a few of my favorite online haunts:

REALTOR.ca
[This is the site I visit to fantasize about living in Toronto again, which is almost every single day during the winter]

Jonathan Cainer's Zodiac Forecasts
[This is where I visit in the morning, when I need a positive spin on things past, present and future.]

Living Local
[This is where I go to see what Canadians are up to, sometimes I even buy things from the businesses listed there.]

Environment Canada Weather
[This is the site I visit every morning, and before every road trip during the winter]

The sun is shining, really shining this morning. And it shone all day yesterday. It doesn't matter that the snow bank is as high as the second story of the house... this could be regarded as "as high as an elephant's eye" I think. It doesn't matter that last night the thermometer dipped to -17 C, -27 C the night before. It doesn't matter that the thermometer at the centre of the house read 16 C when we got up this morning. None of that matters, because the sun is shining and it convinces me that the world is a bright wonderful place. I want to be convinced.

Mist curls up in my chair, in the sun. She is not inclined to share, even if it is my chair. She knows what she wants, and that is the end of the matter as far as she is concerned.

I have "computerized" myself into an almost comatose condition. Enough! Well, enough configuring that is. I have been working on getting the new iMac to share a dial-up connection over the wireless. Won't do it. Should do it. Won't do it. Funny thing was, when I called Apple support the gal there did not have a clue what I was talking about. That too was funny, since the issue I am dealing with is covered in many forums and the problem is experienced by many people. It should work, and it does for some, but not for all. Why, no one on earth knows. Certainly Apple doesn't know. And to expect Bell, our service provider to know would be an act of pure and unwarranted faith. I am on my own with this one, but will give it a rest for the moment. I'm tired of it for now, tired, tired, tired.

So I am back to having fun. I have been catching up with my email, working on my web site and having a look at my genealogy database and thinking about getting back to formatting those sources. These are things that work, these are things that give me some sense of satisfaction. When I am well fortified with these small and satisfying successes, I will tackle the wireless internet sharing issue again. Not right away though.

It seems that there may only be one or two of us left in North America with dial-up connections. Sad really, to be left so far behind. Support people just do not seem to be able to manage helping, unless you can follow their instructions on a computer connected to the internet, while you talk to them on the phone. They seem unable to adjust to the reality of dial-up. They just don't get it. But I've got it, and at times I curse it; dial-up that is.

Yesterday I finally made the long trip into town to have my routine blood test. I fasted for 12 hours, then had an uncomfortable one-hour drive and a 15 minute wait to have the test. I was dehydrated, coffee deprived and hungry when I left the lab.

My next stop was the coffee shop, where a friendly young fellow, who had forgotten his hearing aid (I kid you not, he needed it and that was obvious), and I conducted a totally disjointed conversation. Although I could hear him, he could not hear me. Sort of a normal conversation with someone that much younger than myself, when I come to think of it; funny how most people don't really to listen to anyone outside their own immediate age group.

I did get my coffee in good order, despite our communication challenges. I proceeded to a cozy spot in the corner of the shop, sat in the sun, read my book, and enjoyed a snack I'd brought from home (the allergy thing). Well rested, I took good advantage of being in town. A long overdue hair trimming, a grocery shop and a visit to the post office rounded off the morning. I arrived to pick Attila up for lunch in good time.

The car is having a few wee problems, at least we hope they are wee. This means that it is imperative, that when I am out and about, I carry the cellphone. Where we live being stranded is no small matter, with miles and miles of bush and harsh winter weather to contend with.

Today Mist will sleep in the sun, and I will putter about with my various projects on the computer and around the house.

Sunshine and Vivaldi!
RECIPES :: Cast



Wordly Distractions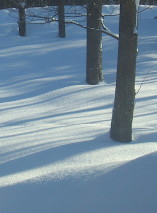 Satuday's storm left another foot or more of the sparkling white stuff! Shovel, Attila, shovel!



Airwaves
Autumn: Adagio Motto
Vivaldi



On The Screen
Northern Exposure
Animals "R" Us



By The Easy Chair
The Three Miss Margarets
by Louise Shaffer



Quote
"He who praises you for what you lack wishes to take from you what you have."
Don Juan Manuel (1282 - 1349)



Weather

Sunny
Temperature -4.3°C
Press 101.8 kPa / falling
Visibility 15 km
Humidity 63%
Wind Chill -9
Dew Point -10.2°C
Wind Speed SW 15 km/h