Home



Here are a few of my favorite online haunts:

REALTOR.ca
[This is the site I visit to fantasize about living in Toronto again, which is almost every single day during the winter]

Jonathan Cainer's Zodiac Forecasts
[This is where I visit in the morning, when I need a positive spin on things past, present and future.]

Living Local
[This is where I go to see what Canadians are up to, sometimes I even buy things from the businesses listed there.]

Environment Canada Weather
[This is the site I visit every morning, and before every road trip during the winter]

The sun is shining and I am managing to successfully distract myself from both the weather and the wait for the new computer. The weather looks beautiful, the sunshine is warm to sit in by the window, but it is bitterly cold out there, the wind chill factor being -33 when Attila left for work. We are having yet another cold snap. He works outside all day, so that I think of him frequently, wondering how he is making out. We have been experiencing arctic conditions for the last few days, although it seems the weekend will be a bit milder.

The computer did not originally ship as promised. I received an email message, the day after the computer was originally supposed to ship,to say that there had been an "unavoidable delay". The new delivery-by date was to be March 13th. At first I was upset, but then rationalized that usually, with good companies, this meant that things were being taken care of as they should.

Sure enough, later in the day I received an additional email message letting me know that the price had fallen on some of the components I had purchased and that my price had been adjusted down to incorporate the change. Worth the wait right there!

Wondering what the savings would be, I called the Apple Store to find out. I talked to a very nice young man who, although he could not tell me the exact nature of my savings, could speed up my delivery. I received an email message last night letting me know that the computer shipped yesterday from California and should arrive by Monday afternoon. I am thrilled.

The Eight Weeks of Winter Tour de Force was overwhelmed by the purchase of this computer. We are in what would have been the fourth week of the Tour de Force, with no computer in sight.

However, the universe has a way of giving me what I need, which is most assuredly and often not what I think I want.

There are signs, signs that all is well in the part of reality that we cannot see, that which we can only feel. Attila had an evening appointment with the doctor earlier this week. It is a one-hour drive to the doctor's office and a one-hour drive home again. As we left home that night there was the odd snowflake floating out of the sky. By the time we left the doctor's office wet snow was falling thick and wet and heavy. We stopped to have Attila's prescription filled, and to browse the grocery store for a few items since we were in town.

As Attila looked over the vegetables, I noticed a cart sitting in one of the aisles containing a few very sorry looking pots of tulips. On further investigation I discovered that in one small pot the tulips were in relatively good condition. The price was right, 99 cents. Although our Eight Weeks of Winter Tour de Force is officially abandoned, this small pot of white tulip blooms presented itself as an offering of hope on a miserable winter's night. We drove home through swirling snow on a white, slippery highway, with that pot of white tulips cradled gently on my lap. White does have some redeeming qualities after all!

" Keep busy.", I tell myself, as I wait.

" Distract yourself!", Annie writes from England.

In keeping with Annie's and my own good advice, I am busy in the kitchen today. I have chickpeas soaking to use in a recipe for Falafels. I have a loaf of bread cooling on the counter. I have a batch of granola slowly baking in the crockpot. If nothing else, it certainly smells heavenly in here!

This site is still being edited, slowly and at times tediously. CSS is being employed. Used in the past to define mostly font type, size and colour, it can also be used for page layout and some decorative features. There is much to learn, and my first attempts are crude. But they work and they pass basic W3C validation, so it is a start.
RECIPES :: Cast



Worldly Distractions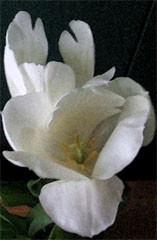 White by any other name.





Airwaves


Friend of the Devil
Ramblin Jack Elliott / Bob Wier





On The Screen


The Astronaut Farmer
starring Billy Bob Thornton





By The Easy Chair


Promised Lands
by Jane Rogers





Quote


"The only normal people are the ones you don't know very well."
Joe Ancis



Weather
Sunny
Temp 27.6°C
Press 102.1 kPa / rising
Visibility 15 km
Humidity 70%
Wind Chill -33
Dew Point -31.4°C
Wind Speed: NW 5 km/h