We are at last saying goodbye to January. It was snowing this morning, but it has stopped now, for the moment. The sky remains heavily overcast. The local roads are snow covered and visibility is poor. During the entire month of January I have only left my home twice. Fortunately, thus far, I am surviving the experience unscathed, at least I think I am. However, I am on the watch, as cabin fever can sneak up on you suddenly and wreak havoc.
January brought us two thaws, both of which removed the equivalent of a winter's worth of snow. Yesterday's major storm brought another four inches of snow, which is not a lot, considering the last few months. Also in January we have had two major windstorms. The first windstorm took the power out for three days. The second windstorm, yesterday, took the power out for six hours, even though the winds gusted to 110 kilometers an hour.
I have to wonder what February and March have in store for us!
Today I am continuing on my quest to simplify and update accounts, servers and all such technical aspects of life. Still tedious, but I have completed one task completely, which feels like having reached the peak of Mount Everest! Hopefully my efforts will make bookkeeping less time consuming and confusing in the future.
Yikes! I just looked up from the computer screen and there it is… snowing again. If it weren't so pretty I'd… well actually there isn't anything to be done about it, so I will continue to focus on the "isn't it pretty" side of things.
Ahem, now there's the sun! I'm off to jump into that fleeting pool of sunshine by the window.
RECIPES :: Cast

Worldly Distractions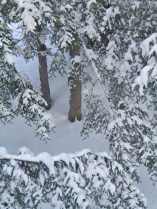 The morning after the night before.
Airwaves

Les Momes De La Cloche
performed by Edith Piaf
Weather

SNOWSQUALL WARNING CONTINUED
Partly Cloudy
Temp -9.9°C
Pres 103.0 kPa / rising
Visibility 13 km
Humidity 82%
Wind Chill -15
Dew Point -12.4°C
Wind Speed WSW 9 km/h