Home



Here are a few of my favorite online haunts:

REALTOR.ca
[This is the site I visit to fantasize about living in Toronto again, which is almost every single day during the winter]

Jonathan Cainer's Zodiac Forecasts
[This is where I visit in the morning, when I need a positive spin on things past, present and future.]

Living Local
[This is where I go to see what Canadians are up to, sometimes I even buy things from the businesses listed there.]

Environment Canada Weather
[This is the site I visit every morning, and before every road trip during the winter]

The morning is sunny. Attila has driven off on four wheels and here I sit at the keyboard. I read email, selecting pieces that offer immediate interest. At the same time, between email messages, I read snatches of Section 1 in Nicolaides' book. At the same time, between reading email messages and snatches of Nicolaides' text, I admire the blind-striped sunlight that falls across the chair backs and the door of the refrigerator. At the same time, nestled amongst the reading of email, the snatched bits of Nicolaides and the admiration of sunlight, I contemplate the tasks waiting for me in the kitchen, the stack of dishes to be washed and the replenishing of jars: maple syrup, gluten flour, yeast. As the sun seeks out the darkness, so I seek out the flow of my own life.
Parallax, as it applies itself to language, seems to be today's theme. At breakfast Attila began a sentence with the word governor. My mind immediately filled in a sly, smiling man in a suit and tie. However, the rest of the sentence soon became indecipherable, as Attila intended governor to mean the device on a car that limits the maximum rate of speed at which it will travel. An interesting mix of images and meanings ensued.

Later in the day I read the headline, "Bill Would Give FDA Power to Regulate Content of Cigarettes" from FOXNews.com. Well, I immediately and genuinely thought, good for good old Bill, whoever he is. Seconds later I conceded the implied meaning of the headline. Another playful think ensued, comparing the interactive possibilites between Bill the suit and Bill the list-on-paper, prepared by the suits.

Parallax is the phenomena responsible for my failure to experience boredom, ennui or any serious interest in the mass media.
Today was a perfect summer day. I could not stay indoors. I took my book out onto the deck, where I sat for the first time this summer, unmolested by biting insects. The breeze helped, I'm sure. I even picked a few sprigs of mint from the planter and added them to my ice water, a little treat. I also managed to gather a wheelbarrow full of kindling and bark, left by the firewood Attila finished shifting to the woodpile.
RECIPES :: Cast



Worldly Distractions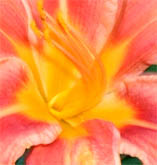 A closer look at the Lily.





By the Easy Chair


Perfume
by Patrick Suskind





Quote


To love deeply in one direction makes us more loving in all others.
Anne-Sophie Swetchine





On the Screen


Sunny
Temp 21°C
Press 101.5 kPa
Visibility 15 km
Humidity 53 %
Dewpoint 11°C
Wind W 8 km/h