Home



Here are a few of my favorite online haunts:

REALTOR.ca
[This is the site I visit to fantasize about living in Toronto again, which is almost every single day during the winter]

Jonathan Cainer's Zodiac Forecasts
[This is where I visit in the morning, when I need a positive spin on things past, present and future.]

Living Local
[This is where I go to see what Canadians are up to, sometimes I even buy things from the businesses listed there.]

Environment Canada Weather
[This is the site I visit every morning, and before every road trip during the winter]

Attila and I are busy, busy, busy!

His workweek is six days long. My workweek is five days long, but I am working overtime two or three evenings a week, and occasionally on Saturdays.

Attila has had one weekend off since he started his new job. Fortunately it coincided with the Shower held for Luna and Janus and the grandbabies. The Shower was held on a Sunday afternoon; about 3 hours drive from our home. Rather than arrive the night before, Saturday night, and rent a motel room, we decided to make an early start Sunday morning, drive to the event, enjoy a few hours with everyone, and then drive back home.

The day was sunny and beautiful, the drive pleasant and without stress. The Shower was charming, planned lovingly by Terra, financed and hosted by Janus' parents. Luna was radiant, sporting a new outfit purchased for her for the event by Janus' mother. Luna is very pregnant now, with about three months to go. There was a full buffet of finger foods, but the highlight of buffet table was a beautiful cake, with woven basket icing in bright baby colours. Lares' grandmother prepared it especially for Luna and Janus' big day.

The games were a lot of fun, involving the identification of baby food and baby items. While "the ladies" and a few brave men participated in the games, Janus' father took the rest of the men for a sail, as their condominium is at the yacht club.

We said our farewells and headed home. We left early enough to make the journey during daylight hours. After another pleasant drive, we arrived home in good time. In her typically affectionate way, Terra called us in the evening to make sure we had arrived home safely, and to chat for a bit. And so the day and the weekend ended on a pleasant note.

This past week saw another landmark; my health benefits came into effect on the first of June. This weekend I am researching my options for procuring an eye examination, in the hopes of getting new eyeglasses. Since I work on computers all day long my eyes are showing signs of wear and tear, and new eyeglasses are very much overdue. After vision care, our attention will turn to dental care.

My local politician's office returned my call, explaining to me that the nearest lab that would offer services outside regular business hours is a two hour car drive from our home. The opportunity to travel the long distance required to get a blood test on a Saturday morning has not yet arrived. However, I am now eligible for holidays at work, and I think I will have to use them to do things like get my eyes tested, and have a blood test. Not exactly what I had in mind as a "holiday", but that is the modern reality.

I can hear the skill saw whirring in the yard, Attila is happily building; this project is a porch to protect us from snow falling from the new metal roof this winter. Mist is sleeping peacefully on Attila's chair. The dishes are washed and stacked, drying in the rack. Our little world keeps on spinning.
RECIPES :: Cast



Worldly Distractions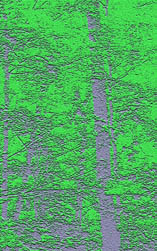 Green Green Green





By the Easy Chair


In a Glass House
by Nino Ricci





Airwaves


Can mosquitoes really make this much noise?!?!
Apparently they can, we have a bumper crop this year!





On the Screen


Muriel's Wedding
In which Muriel's mother has the decency to kill herself, providing the insights needed for everyone else to live happily ever after.