Home



Here are a few of my favorite online haunts:

REALTOR.ca
[This is the site I visit to fantasize about living in Toronto again, which is almost every single day during the winter]

Jonathan Cainer's Zodiac Forecasts
[This is where I visit in the morning, when I need a positive spin on things past, present and future.]

Living Local
[This is where I go to see what Canadians are up to, sometimes I even buy things from the businesses listed there.]

Environment Canada Weather
[This is the site I visit every morning, and before every road trip during the winter]

I want to write a short bit today, although I haven't much time to do it in. Life has been very, very busy for the last month or so.

Attila had his hernia surgery and is well on the road to recovery. And a good thing too, because I was finding it a bit overwhelming, taking tender loving care of Attila, heating the house with wood, and getting used to being employed full time.

Attila is so much healed that he is out in the yard as I write. We are experiencing heavy snowfall, yesterday and today, and by pacing himself, Attila has been able to keep up with the snow shoveling. What a guy.

I really enjoy working, and have now clocked over five weeks on the job. I like the job. I like the people. In four and a half months I'll be looking for work again, because the nature of the position I have is seasonal, and not necessarily permanent.

We are ready for Christmas, our modest shopping was completed last week. Next week Attila will select and fell a Christmas tree on our property. We will soon begin the annual baking ritual, and it will be difficult to eat "sensibly" for the next month.

I find that I am constantly tired. For the most part, it is a good kind of tired. Every weekday morning I awake knowing that the work-day will hold numerous challenges, some of which I will meet, and others that will be better met when I have more experience.

Today, I will sit contentedly in my easy chair with a large mug of tea. I will stare out the window at the swirling snow. I will feel grateful at how good life is, close up.

I won't listen to, or think about, any news of the "larger picture" that implies that my present experience is not all that it should be, or could be.
I will feel no guilt at my good fortune. I will cast no aspersions at those less fortunate, for their lack of good fortune. I will feel no envy for those more fortunate, for truth be told, I find it hard to imagine how anyone could be luckier than I am today, in the here and now.

Counting my blessings today, I am.
RECIPES :: Cast



Worldly Distractions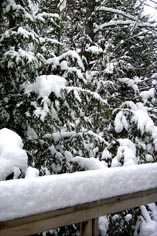 Snow, snow, snow, and more coming.



Quote
"Better the right kind of nothing, than the wrong kind of something."
Auntie Mame



Airwaves
Wind howling through the pines.



On the Screen
Eleni
starring Kate Nelligan



Weather
Light Snow
Temp -3 °C
Press100.9 kPa?
Visibility 1 km
Humidity 88 %
Dewpoint -5 °C
Wind WNW 5 km/h
SNOWSQUALL WARNING CONTINUED