Home



Here are a few of my favorite online haunts:

REALTOR.ca
[This is the site I visit to fantasize about living in Toronto again, which is almost every single day during the winter]

Jonathan Cainer's Zodiac Forecasts
[This is where I visit in the morning, when I need a positive spin on things past, present and future.]

Living Local
[This is where I go to see what Canadians are up to, sometimes I even buy things from the businesses listed there.]

Environment Canada Weather
[This is the site I visit every morning, and before every road trip during the winter]

Today: August 15, 2003
I am posting this quickly in case we lose power again, this entry will not be proofread.
Our power just came back around 1 p.m., almost 24 hours after the blackout started yesterday afternoon.
At first I thought it was just our neigborhood, and did not think much about it. Then Luna called to check in, she informed me that we were all without power and was worried it was a terrorist attack. It was an "its been nice knowing you Mom, I love you" call.
Nothing untoward happened here. We spent a quiet evening listening to our wind-up radio, stood outside enjoying a once in a lifetime view of the stars, and retired early.
When we awoke before light, the power was still off, and we could hear the generator for the Retirement Home humming away in the distance. We spent some time out on the front deck gazing at the bright moon and the planet Mars.
I needed to go to the bank this morning. I knew that if the power came back on while I was out, the alarm system would trip and the police would be called out. So, I had to dismantle the darn thing before I felt comfortable leaving the house. It is important not to trip false alarms when the province is in a state of emergency.
Sure enough, while I was at the bank the power came back on! I knew it! I knew that if I left my house the power would come back on while I was out! I believe my neighborhood has my odd brand of luck to thank for restored electrical services. I am so glad I dismantled the alarm system!
I have amazing abilities, don't you think? It is not easy being the center of the universe! If only!
Now, I must get busy as there is a nasty mess in the refrigerator that requires my immediate attention.
Yesterday: August 14, 2003, this entry was finished and ready to post just after 4 p.m., but such was not to be!
Up and down, that is the way I have been feeling the past week or so. The ups are not that high, the downs are not that low. Still, a smooth ride would be more enjoyable. The inconsistencies are probably related to all the medications taken the months before, and then during the surgery, and the fact that all these chemical concoctions suddenly ceased to course through my veins.

One of the documented side effects, of the medication I took for several months before the surgery, was depression. I suffered tremendously from depression while taking that medication, but did not mention it to my doctors. Why? I feared that they would recommend further medication to control the depression. Not wanting to become dependent on yet another drug, I tolerated the temporary depression. Since the surgery the medication-induced depression has evaporated completely, leaving me naturally balanced and drug free.

My energy levels seem to be slowly increasing. Being exhausted had become normal. Activities that for decades have left me languishing in a chair, now seem easily accomplished. Vague memories of vigour are starting to surface. There was a time long ago when I took for granted the ability to tackle a job and finish it with energy to spare.

Since we will have no "vacation" time this year, Attila is attempting to take several three-day weekends during the month of August. Last weekend he actually accomplished his goal and spent three consecutive days at home. It was heavenly to have him here. We slept, we ate, and we puttered. I cannot remember enjoying the passage of time more than during those three days.
Our puttering included tidying the gardens, cutting the grass, and pulling a few weeds. The new grass is very healthy in some places and struggling in others. It did not help that a skunk, in search of grubs, decided to excavate a portion of the lawn. The newly planted grass seems to be recovering in that spot. I think we will re-seed in the late fall and see what happens in the spring.

In an act of faith, we are beginning to rejuvenate our aged travel trailer. I purchased the trailer years ago when, as a single mother, I camped alone with Terra during the summers. She and I had wonderful times in that trailer, which was old when I bought it.

During the long period of time when we had no vehicle, we hired someone to tow the trailer to our driveway, where it has been sitting ever since. Over the years it has been filled with spare camping equipment, bags of outgrown children's clothing, and just about anything that we did not want to dispose of right away.

Attila is assessing all the appliances and features, intent on restoring everything to working order. He has a list of the parts we need. Since the trailer is over 25 years old, some of the parts are not readily available. Over time he will find new, used, or substitute parts. In the meantime, he is removing all the old and rusty screws, and replacing them with stainless steel screws that will not rust. He is sanding and refinishing exterior panels that are showing the effects of time and weather.

I am sorting and sifting through all the bags of clothing and equipment, keeping some and sending the rest off for recycling. As well, artifacts from my previous life keep popping up, things like painted rocks. Occasionally progress grinds to a complete halt as memories loom large in that small space.

Another task that needs doing is cleaning. Ten years of dust, and the doings of mice, requires a bit of time and determination to overcome. My trusty shop vac has been invaluable in the effort to remove all traces of neglect from the cupboards and floors.

As Attila drills and sands, I wash and reline cupboards. We are enjoying ourselves tremendously. Our pleasure is enhanced by a complete lack of pressure. We will not use the trailer this year, and so there is no deadline for completion of the project.

One of our excursions for "parts" took us by a busy farmer's market. The produce at the market is grown on the land surrounding the building, or on other nearby farms. It is all locally grown, and is very, very fresh. Stopping at the farmer's market was just a bit of a bonus on an already congenial day. All weekend we enjoyed fresh corn, onions, field tomatoes, melon, and blueberries.

Each morning since, I have treated myself to homemade granola topped with fresh blueberries and 1% milk. It is a meal that leaves me smiling for the rest of the day.
RECIPES :: Cast



Worldly Distractions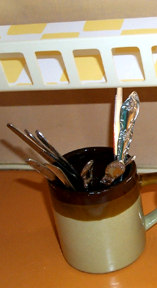 Clean Again





By the Easy Chair


A Compendium of Comic Gems: The Penguin Stephen Leacock,
Selected & Introduced by Robertson Davies.
(I read one to the stories from this book, Gertrude The Governess, to Lillian at the Retirement Home this morning. Apparently some find Leacock's brand of humour rather esoteric. She fell asleep immediately. Sherlock Holmes enjoyed a much livelier reception, as did the works of Alfred Noyes and Robert Service.)





Weather


13:00 EDT
Temp: 28`C
Humidity: 62%
Wind: NW 11 km/h
Barometric: 102.28 kPa

Sunrise 6:29 AM EDT
Sunset 8:27 PM EDT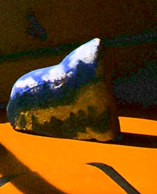 Painted Rock: the
landscape of the past.