The weekend has been a busy one.
Yesterday, Saturday, Attila and I spent the morning turning the soil and planting dozens of pepper and tomato plants. Each year, migrant workers arrive in Canada to work the land and harvest the crops. Our planting this morning will augment the diet of a group of these migrant workers. The garden is beside the house where they will live in during their stay in Canada. Several years ago Attila thought that it would be nice if these workers had a garden of their own so that they could enjoy free and fresh vegetables. That is what we did Saturday morning, we planted the garden for the migrant workers.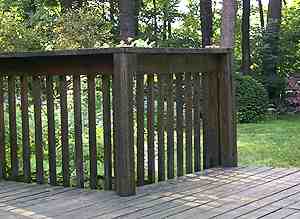 We spent Saturday afternoon cleaning our deck thoroughly so that it could be stained. The deck is showing its age, which is unknown to us. We do know that it has been neglected for the last seven years, our tenure here. After we cleaned the deck, Attila began to stain it. It is Sunday evening as I write and he is nearly finished. He is optimistic that he will complete the project today. It looks wonderful.
Last night I felt bone tired. Suddenly, at 10:30 p.m., I felt an overwhelming urge to lie down, to sleep. "The Teenager" had not arrived home at that point, so that I was loath to retire for the day. Attila offered to remain awake until she arrived home, releasing me from my worldly responsibility and allowing me to seek rest. I fell asleep immediately and slept in this morning. My definition of sleeping in is arising at 7:00 a.m. I still felt weary.
"What is the matter with me," I thought.
"Am I ill?"
Then it occurred to me that what I was feeling was good old-fashioned exhaustion from hard work. I had to laugh at myself. I am so unused to physical labor that I mistook the effects of hard day's work for illness. There was a time when I felt this terrible all the time.
Attila was running low on stain, so I decided to drive to the nearest Home Depot to pick up another gallon. "The Teenager" wanted to accompany me. This request was so unusual that I had to wonder at what might have motivated it. The trip was successful and uneventful. I was still suspicious of "The Teenagers" motives. As well I might have been.
Tenderly, sweetly, she asked me if I would go shopping with her. She said she wanted to spend time with me. "Ah ha," I thought! You see, I knew that her plan was to shop with her girlfriend today. I also knew that they wanted to shop at a mall some distance from here. I also knew that she and her girlfriend do not like using up their bus tickets unless they have to. If I went shopping with them, well, of course I would drive, saving bus tickets and expense.
Tenderly, sweetly, I said no thanks.