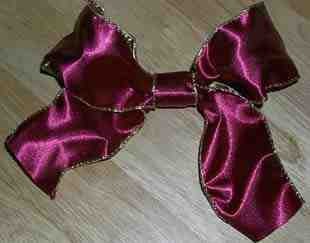 So much to eat, so little time. The festivities began last night, on Christmas Eve. My older daughter and her fiancé arrived, bearing good cheer, spirits, and gaily-wrapped gifts, one adorned with a special homemade Christmas bow. We spent the evening in lively conversation around a table laden with food. After enjoying an excellent meal, we withdrew to the living room to exchange gifts. "The Teenager" played Santa. Everyone took their proper turn unwrapping. Some gifts were ripped open quickly, others slowly revealed, as tape was removed piece by piece. Later "The Girls", my two daughters, took themselves out for a walk in the snow, returning to through fluffy snowballs at the front window. They were laughing hysterically, calling out, "She did it!" and "No, she did it!"
We made merry late into the night until my older daughter and her fiancé left to visit his parents and spend Christmas Day with them. The hour was late but Attila and I proceeded to fill the stockings before finally making our way to bed.
This morning I awoke first. The first footfall as I arose from the bed brought the household to life. We opened presents. We drank coffee. We prepared breakfast. We made telephone calls of Christmas cheer to Attila's mother and father.
Later in the day "The Teenager" donned her finery and was delivered to the home of her best friend where she will share another Christmas Dinner. Attila and I have been quietly meandering through the day, nibbling all the while. The cold winter wind, whistling outside the walls we call home, reminds us that we are safe and warm. There is much to celebrate today.